Andouille Trail honors Cajun specialty in South Louisiana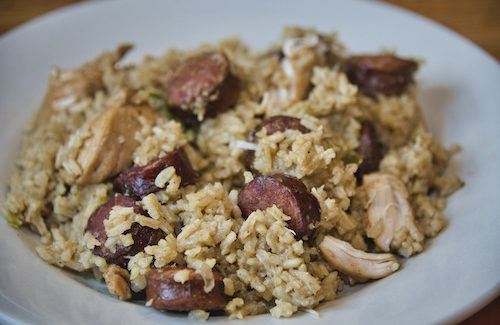 Cruising along the mighty Mississippi, passengers often encounter a Cajun delicacy, if they haven't already discovered the Louisiana treat. The delicious specialty known as andouille is very popular in this part of the world.
And, if folks time it just right, they can take an andouille cooking class offered by Spuddy Faucheux.
"I'm not a chef," Spuddy says. "I'm a cook. I don't wear a white hat. I didn't go to school for cooking. But there were always people around, like my mama, who were willing to teach me what they knew."
Spuddy shares his culinary and historic knowledge in his popular Cajun Cooking Experience where groups can get hands-on instruction and eat the results. "What we do here is cook not so much from a recipe but from our heart and soul," he says.
"I can't put my recipes on a piece of paper. Just come into my kitchen and you will learn how we make real food," he says. "This is the real thing. This is what our ancestors were eating generations ago."
Heritages Combine for Andouille
French and German culinary heritages combined with Cajun influences in the River Parishes of Louisiana to create the meat called andouille.
"It's not sausage," Spuddy emphasizes. "It's andouille, a German delicacy with a French name, made of very lean ground pork and special seasonings that are smoked over a wood fire."
Andouille is a prime ingredient in tasty Cajun dishes like gumbo, jambalaya and shrimp and grits. The meat is so popular that it now has its own Andouille Trail.
Launched Sept. 23, 2020, by the River Parishes Tourist Commission, the Andouille Trail includes the parishes of St. James, St. Charles and St. John the Baptist. The trail currently features 36 area restaurants, general stores, butcher shops and smokehouses where people can buy, make, taste, eat or ship andouille.
The trail is on both sides of the Mississippi River between New Orleans and Baton Rouge and more places will be added to the Andouille Trail website as the trail grows.
The Andouille Trail map can be downloaded from the website. Passports to keep track of the stops are available at all links on the trail in addition to local visitor centers. Signs marking participating business are displayed in shop windows and tacked to telephone poles. To make the experience even more fun, trail followers can end up with a handy souvenir.
Save receipts from five links on the trail, mail them to the River Parishes Tourist Commission and receive an Andouille Trail wooden spoon perfect for cooking roux for jambalaya and gumbo.
            Andouille Taste Differs at Various Places
The taste of andouille changes in the various stops according to how the meat is made, the spices used and the smoke intensity with various woods. It's different almost every place you get it because they all have different family traditions for the recipes they make.
As one of the stops on the Andouille Trail, Spuddy already knows the power of the region's cuisine for visitors who find their way to Spuddy's Cajun Foods in Vacherie. As for that name, Maitland Faucheux III has gone by the nickname Spuddy his whole life.
"I was born the year Sputnik was launched," he explains. "I've always been called 'Spuddy.' When I was 5 and headed off to school, I had to be told that teachers would call me Maitland because, to me, my name is Spuddy."
Although he started off as a computer programmer after graduating from college with a degree in computer science, Spuddy always wanted to open his own business and decided that food would be it.
Over at Oak Alley Plantation Restaurant & Inn, another beautiful stop on the Andouille Trail, director of marketing Hillary Loeber says one of the most requested andouille dishes at the historic Vacherie plantation is gumbo made with chicken, smoked sausage and andouille.
"Andouille was popular because it didn't require refrigeration, which wasn't available in the 1700s-1800s," Hillary says. "It was actually cured to preserve it, so it was a meat that lasted. It continues to be popular because, as a seasoned meat, it can be used in a variety of dishes."
As early as 1803, Jacques Etienne Roman started formalizing land claims that included the property now known as Oak Alley. The name stuck because of the towering oak trees.
"The main house was not built until 1837. Today, visitors can spend the night in century-old cottages as well as newly-built cottages," Hillary says.
Local folks acknowledge the importance of making sure authentic traditions stay alive. With andouille, they say, you can literally taste the history and flavor of the River Parishes in a bite.
For more information: Contact Louisiana's River Parishes at (866) 204-7782; www.lariverparishes.com. Download the Andouille Trail map at www.andouilletrail.com