American Sign Museum: Home of signs from bygone times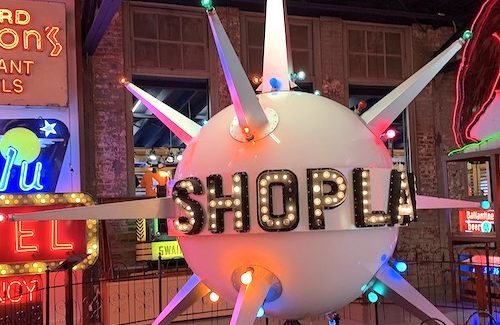 As a child growing up, when my family was coming home after dark, I would always look for the Starlite Drive-In sign. That let me know that I would soon be home in my own bed.
Mom also taught us to play a game on road trips where we would look for different words on signs. Whoever saw the word first was the winner. I forgot what we won but I am sure the game was to keep us entertained and quiet on long drives.
So, seeing the signs in the American Sign Museum sure took me on a walk down memory lane. Located in Cincinnati, the American Sign Museum guides visitors through a half century of sign history. It begins with the elegant gold-leaf glass signs of the early 1900s through the pre-neon era of lightbulb signs, to neon's heyday in the 1930s to 1940s and on into the plastic era of the funky 1950s.
"These important pieces of American culture were being thrown away," says Jesse Sandman, Manager of Museum Guest Services. "They are a part of our history and shouldn't be destroyed."
In days' past, before GPS devices could take us almost anywhere and let us know what was ahead, we used to search the countryside for signs of our favorite restaurants, accommodations and gas stations. Sometimes, we might even take a quick detour when a fascinating attraction sign popped up alongside the road.
On America's main streets, signs would glimmer and flash to alert shoppers to some diner, grocery store, jeweler, book seller, barber shop and many more merchants. Having an eye-catching sign was important for almost any business.
"Times have changed," Jesse says. "Many of these businesses are no longer here. But the signs they once used made an important contribution to commerce, to culture and to the American landscape."
                                                    One man's collection
To preserve that colorful past, Tod Swormstedt, former editor and publisher of "Signs of the Times" magazine began collecting signs and founded the National Signs of the Times Museum in 1999. A self-taught sign expert, Tod and his family had owned the trade journal for the sign manufacturing industry since 1906. Tod was the fourth-generation editor of the publication known as "the bible of the sign industry."
In 2005, Tod changed the name of his collection to the American Sign Museum. The museum was relocated to a more expansive facility in 2012 in a former fashion frock factory. "The museum needed a much larger space because many of these signs are so big," Jesse says.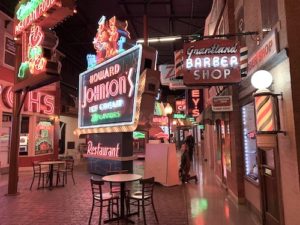 Why did the signs become obsolete? The answers are many. Some of the places the signs were advertising went out of business. Other signs were no longer useful because of corporate standardization. Political correctness deleted some as what was acceptable changed as years passed. Some signs were victims of restrictive sign codes.
"If you have never tried to put up a sign for a business, you probably have no idea of how difficult it is," Jesse says.
Some signs in the museum were used to promote businesses that are still flourishing but the signs have changed along with the times. Take for example, Jesse says, the huge Big Boy character that was used to promote Frisch's restaurants' signature hamburger. On display in the museum, the gigantic scampering Big Boy carrying his namesake hamburger was used in the 1960s.
Look closely and you'll see how Big Boy signs have changed. The old Big Boy had red hair. Now it's dark hair. Can't discriminate against "gingers." The pudgy cheeks and potbelly on the former Big Boy are gone. Can't associate fast food with weight gain. And that slingshot that used to be sticking out of Big Boy's back pocket?
"It's gone," Jesse says. "Don't want to promote violence. Kids shouldn't be playing with slingshots."
Strolling down Signville
One of my favorite parts of the museum was a faux streetscape in a town known as Signville where it is always night. "So you can see the signs better," Jesse says.
Created to look like an old Main Street, the section is complete with lampposts, fire hydrants, painted windows, hanging signs, flashing signs and brick streets. The mock storefront windows are display cases for smaller signs.
A slowly spinning orb studded with long neon spikes once advertised a strip mall in Anaheim named Satellite Shopland. "It reflects the space age in the 1950s when the Soviet Union launched Sputnik and TV had the Jetsons, a cartoon show about a space age family," Jesse says.
The space orb sign was so unusual that the sign companies the shopping center owner approached to build his satellite creation thought he was crazy. So the man built it himself.
Another historic sign features a single-arch McDonald's with a Speedee character, a forerunner of Ronald McDonald. To advertise the fact that McDonald's was so quick to serve customers, the company used Speedee as a mascot before the use of the Golden Arches design.
A little man who wore a chef's uniform and had a hamburger-shaped face, Speedee sometimes was on a neon sign moving his little legs, showing how he would rush quickly to serve a customer. In 1962, Speedee was replaced by Ronald McDonald, partly it is said, to remove any possible association with another Speedy, the Alka-Seltzer mascot.
"This is the largest public museum dedicated to signs in the United States," Jesse says. "Visitors often are surprised when they see the treasures we have here."
For more information: Contact the American Sign Museum at (513) 541-6366, www.americansignmuseum.org.
Photos by Jackie Sheckler Finch
Cover photo: The space orb sign was created during the 1950s Sputnik era.