AmaWaterways Introduces Longest-Ever River Cruise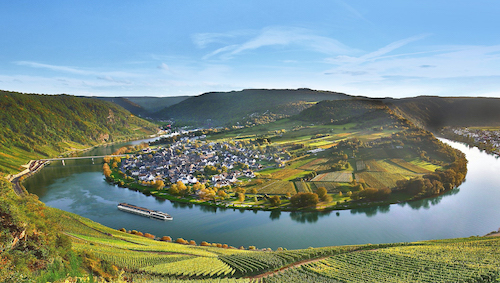 People who are ready to travel after the long pandemic lockdown are going to have a chance to take an amazing "Seven River Journey Through Europe" setting sail June 1, 2023.
The spectacular 46-night cruise will take 144 lucky guests on the longest-ever river cruise. Announced by AmaWaterways, the awesome adventure will journey through 14 fascinating counties on four luxury river vessels – AmaLyra, AmaKristina, Ama Prima and AmaVerde.
"With the pent-up demand for travel we are seeing and the increase in requests for our longer cruises, we feel this is the perfect time to introduce our incredible, all-new Seven River Journey," Rudi Schreiner said in a news release.
As AmaWaterways company president and "The Godfather of River Cruising," Schreiner said, "At AmaWaterways, we continually anticipate the needs of our guests and always strive to provide innovative experiences that push industry standards."
The Seven River Journey Through Europe will carry guests along Europe's most legendary rivers, capturing the essence of each region it visits with unique history, cultural traditions and architecture, plus delectable cuisine and wine.
Guests will have more than 130 complimentary excursions to choose from with many all-new tours and exclusive experiences guaranteed to surprise and delight. A dedicated Cruise Manager will personally guide guests throughout their 46 nights onboard.
"The initial response has been remarkable since we first teased the news of this experience," Schreiner said. "I am confident that we will exceed expectations when we set sail in June 2023, creating unforgettable memories for all of the 144 adventurous guests on board."
A Wellness Host will offer a variety of core strengthening, stretching and yoga classes during the cruise. The Seven River Journey also will include transfers between ships, complimentary laundry and portage service, and all gratuities onboard and during shore excursions.
Throughout the voyage, guests will journey to some of the most sought-after destinations in Europe while visiting 17 UNESCO World Heritage sites.
Highlights include sailing through the romantic city of Paris, venturing to the historic D-Day landing beaches of Normandy, being treated to an exclusive visit to Lahneck Castle in Germany and visiting off-the-beaten path wonders in countries such as Croatia, Servia, Bulgaria and Romania.
The full itinerary for this epic 2023 getaway includes:
June 1 – 8: Seine River – France (AmaLyra) – Round trip Paris, France
June 8 – 13: Saône and Rhône rivers – France (AmaKristina) – Lyon to Tarascon, France
June 13 – July 4: Rhine, Moselle and Main rivers – Switzerland, Germany, France, Belgium, Luxembourg and Netherlands (AmaPrima) – Basel, Switzerland to Amsterdam, Netherlands to Vilshofen, Germany
July 4 – 17: Danube River – Germany, Austria, Czech Republic, Slovakia, Hungary, Croatia, Serbia, Bulgaria and Romania (AmaVerde) – Vilshofen, Germany to Giurgiu, Romania
Photos courtesy of AmaWaterways