Under the Sea in Grand Cayman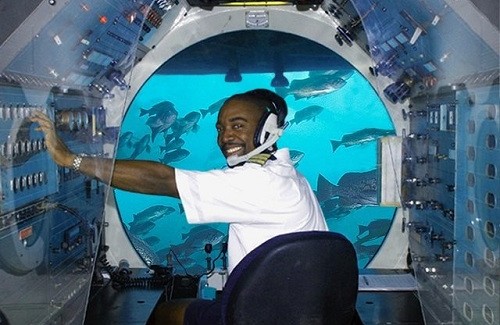 The deeper our submarine sank, the less colorful the underwater world became. That was a surprise for me aboard my first Atlantis Submarine dive.
For some reason, I thought life down deep would be like in the movies – vibrant Technicolor. Not so.
Our submarine guide Dan explains that colors begin to fade the deeper we go into the ocean. "The vibrant colors you see in photographs of the underwater world are the result of using artificial light," Dan says.
"The first color the ocean absorbs is red. Then orange, yellow, green, blue and so on as it becomes deeper and darker. Beyond a certain depth, all color is absorbed and you are in total darkness."
The Atlantis Submarine tours are a popular adventure when cruise ships visit the Cayman Islands.
"The Cayman Islands are one of the top scuba diving destinations in the world," Dan says. "With our submarines, you don't have to be a scuba diver or get wet to experience the underwater world."
For the 90-minute submarine trip, we caught a boat shuttle from our cruise ship to the  Cayman shore. There we boarded an open boat out to the 48-passenger, air-conditioned submarine.
Everyone is guaranteed a seat in front of huge viewing windows on the 65-foot-long sub as it slowly descends to 100 feet. Massive barrel sponges and star corals abound on the Grand Cayman reef. Snappers, groupers, turtles, other fish I couldn't identify and even a barracuda circled around the submarine.
By Jackie Sheckler Finch
Grand Cayman is a great Western Caribbean destination. Start planning your next Caribbean cruise today! Click here to get started!