No Comments
Traveling Through Michigan's Soo Locks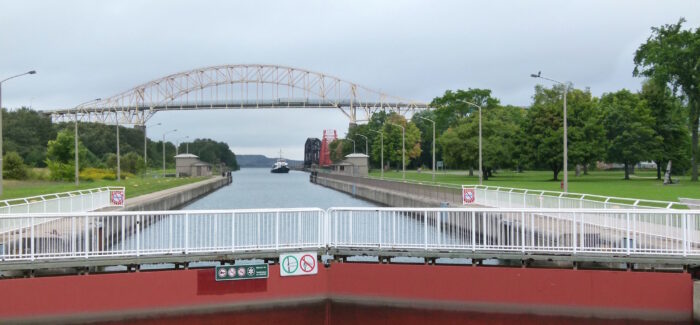 The little boy sitting in front of me let out a loud, "Oh, no, we're going to crash into that wall."
His father quickly assured him that the "wall" was a "door" and that our boat would safely cruise through once the lock opened. An Original Soo Locks Boat Tours in Sault Ste. Marie, Michigan, is a fascinating way to get a close-up look at those amazing engineering wonders.
On our boat tour, we traveled from a lower-level Lake Huron into a deep chamber which rapidly filled with millions of gallons of Lake Superior water. Our boat seemed to miraculously lift and within 20 minutes the gate opened and we were cruising again. Boat guide Dave said we had just experienced "locking through."
"As many as 7,000 vessels pass through the locks each year," Dave said, adding that the four locks opened a whole new world for boats large and small. Before the first State Lock was built in 1855, river folks had to portage their canoes and cargo around the rapids.
Our two-hour narrated tour included all four American locks, the Canadian Lock, St. Mary's Rapids and beautiful views of the historic waterfronts on both the American and Canadian sides. Started in 1934, the Soo Locks sightseeing boat tours are like two trips in one – a relaxing water voyage and a fascinating history lesson.
Our cruise had groups, families and travelers from near and far. Dinner and luncheon cruises also are available.
When we saw a massive 1,000-foot freighter easily cruising through the lock, I think many of us let out a "Wow" as we realized how important the locks are to the boat transportation world.
For more information: Contact Original Soo Locks Boat Tours at (906) 632-6301, www.originalsoolocktours.com.
Photos by Jackie Sheckler Finch
Our boat tour approaches a lock. The Soo Locks allow large freighters to easily cruise through the waterway.