Vicksburg Archives – Crown Cruise Vacations
April 24, 2021 | Jackie Sheckler Finch
A well-loved teddy bear rests in a rocking chair in my guest room. The worn stuffed animal belonged to my husband Bill when he was a child.
Years ago, I was curious as to how that childhood favorite critter got its name. I found the answer. But I was also happy to see a mural about the teddy bear namesake when my American Duchess riverboat stopped in Vicksburg, Mississippi. Read more...
January 10, 2019 | Jackie Sheckler Finch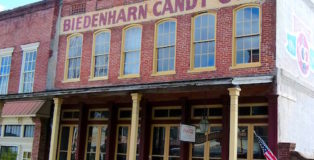 Once upon a time, Coca-Cola drinkers could only get their cold beverage by visiting a soda fountain.
On a summer day in 1894, however, a young Mississippi candy merchant and soda fountain operator changed all that. Joseph Biedenharn had an idea that quickly changed the soft drink industry. Read more...