alcatraz Archives – Crown Cruise Vacations
April 27, 2021 | Jackie Sheckler Finch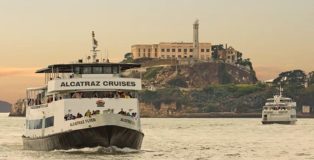 Even on a sunny California day, the island was shrouded in fog. We were almost on it before the sun broke through and we could see it well.
The island is one very scary place, and that is exactly what it was intended to be.
Rising from the middle of San Francisco Bay in California, Alcatraz Island drips with the dark atmosphere of danger and notoriety. Perhaps the most famous ex-jail in the world, Alcatraz doesn't have a creepy reputation for nothing. From the start, Alcatraz was for the "worst of the worst." Read more...