Shawshank Trail showcases Ohio filming sites for cult classic movie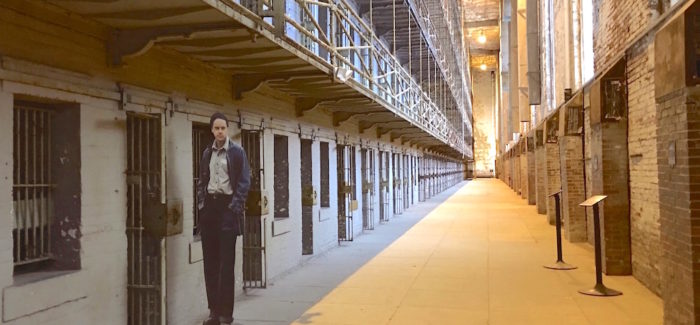 "Remember, Red, hope is a good thing, maybe the best of things, and no good thing ever dies."                             
                                                        Andy Dufresne (Tim Robbins) in The Shawshank Redemption
By Jackie Sheckler Finch
The heavy clank of the metal door echoes off the cold concrete and sends shivers down my spine. What a living death it must have been to be locked away in these dark prison cells.
But one man did escape, at least in the movie "The Shawshank Redemption," filmed in the very prison where I am standing. Released in 1994 and based on a story by Stephen King, the movie traces the tale of mild-manner banker Andy Dufresne (Tim Robbins), sentenced to two consecutive life terms in a horrendous prison for the murders of his wife and her lover – a crime he didn't commit.
Forming a friendship with fellow prisoner Red (Morgan Freeman), Andy suffers the brutality of prison life, ingratiates himself with the warden by running a money-laundering operation for the man in charge and manages a daring escape after 19 years.
"I don't think anyone expected the movie to be as popular as it is," says Jodie Snavely, media director for the Mansfield & Richland County (Ohio) Convention & Visitors Bureau. "It remains one of the most loved and iconic movies of all time."
When the movie came out, Shawshank devotees began heading to Mansfield to see for themselves the sites in the film.
"Visitors from all over the world started coming into our office asking where this Shawshank site was or that site was," Jodie says. "We decided to find those locations and make it easier for Shawshank fans so we created our Shawshank Trail."
Prison becomes famous movie setting
The driving tour features 14 filming sites with large red-and-white Shawshank Trail signs that visitors can enjoy at their own pace. During my three days in Mansfield, I'm following the path, starting with that spookily magnificent prison nicknamed "Dracula's Castle." Built in 1886, the Gothic-looking Ohio State Reformatory is beautiful in a scary way.
"It was supposed to be menacing yet spiritual," says tour guide Ron Puff. "The idea was to encourage young inmates to turn away from their sinful pasts, to reform and to start a new life when they left here."
But as prison populations burgeoned in the 20th century, the reformatory was forced to accept more violent criminals. By the 1960s, the reformatory was overcrowded and filled with disease, murder and mayhem.
After a prison riot and complaints of atrocities, the Ohio State Reformatory was closed due to inhumane conditions on Dec. 31, 1990.  About 154,000 inmates had passed through its gates. The reformatory was slated to be torn down and turned into a parking lot for the newer prison built nearby.
Instead the facility is now on the National Register of Historic Places and has its East Cell Block listed in the Guinness Book of World Records for the world's largest free-standing steel cell block – six terrifying tiers.
 After it closed, Hollywood came calling to film not only "The Shawshank Redemption" but also "Air Force One" and "Tango and Cash" at the former prison. Now, tours are offered, including ghost tours and a special Halloween haunted house.
Shawshank fans touring the prison can experience the parole board room, Andy's cell, warden's office, sinister solitary confinement "hole" and Andy's escape tunnel that he secretly dug for years and through which he crawled to freedom.
"In the movie, the tunnel was a 500-yard sewage pipe so you know what Andy was supposed to be crawling through," Ron says. "Instead of actual sewage, though, they used chocolate syrup, sawdust and water."
Ron pointed out the mugshot of a young-looking Red attached to the prisoner's parole papers. "That's actually Morgan Freeman's son, Alfonso Freeman," Ron says. Alfonso also had a cameo in the movie as a con shouting, "Fresh fish! Fresh fish today!" when new inmates were paraded through the prison.
                                                Shawshank Oak Tree
One of the most poignant and important Shawshank sites is no longer there. On July 22, 2016, the famous Shawshank oak tree was toppled by high winds. Part of the tree had already fallen when it was split by lightning in a storm five years earlier.
In the film, the tree is where Red goes after his release from prison and finds a box buried under stones near the tree. The box contains a letter and cash to buy a bus ticket to see old friend Andy who fled to Mexico after escaping prison.
The towering tree was where Andy had proposed to his wife. "Promise me, Red, if you ever get out, find that spot," Andy told Red one day in prison.
I think what Jodie said after hearing that the tree had crashed to the ground is a perfect eulogy for the beloved white oak and a reminder of one of the most famous quotes from the film:
"I'm sure people will still come see where the tree was because hope is a good thing," Jodie says. "And a good thing never dies."
For more information: Contact Mansfield & Richland County Convention & Visitors Bureau at (800) 642-8282 or www.mansfieldtourism.com or www.shawshanktrail.com
Photos by Jackie Sheckler Finch
Cover photo: A cardboard cutout of actor Tim Robbins stands near a prison cell.
The old Ohio State Reformatory is where the movie was filmed.
The Shawshank oak tree before it was felled by lightning.
A cardboard cutout of actor Morgan Freeman stands in the prison.