No Comments
PortMiami welcomes 8 new cruise ships for the 2023-2024 cruise season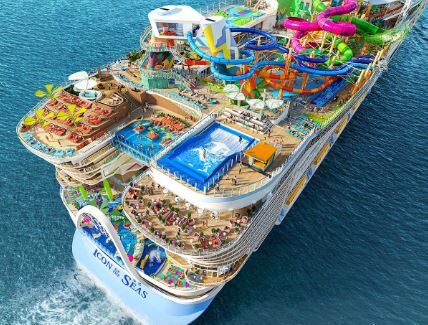 COURTESY Miami-Dade County: MIAMI-DADE ( October 2023 )– PortMiami is thrilled to announce the arrival of eight new cruise ships to the "Cruise Capital of the World" for the 2023-2024 cruise season.
Among the new lineup of ships that will be departing from PortMiami beginning October 2023 are the Oceania Vista, Carnival Cruise Line Costa Venezia, and Scenic Eclipse II. In November 2023, Crystal Cruises Serenity, MSC Cruises EXPLORA I, and Norwegian Cruise Line Norwegian VIVA; and in December 2023, Regent's Seven Seas Grandeur will begin sailing from PortMiami. In January 2024, Royal Caribbean Group Icon of the Seas, the largest cruise ship in the world, will set sail from the Port.
"We are grateful for the longstanding partnerships with all of our cruise partners and their commitment to providing a world-class experience to our passengers," said Miami-Dade County Mayor Daniella Levine Cava. "These new ships, and their improved amenities and customer experience, are helping to keep Miami-Dade and PortMiami on the cutting edge of the cruise industry."
As PortMiami returns to regular cruise schedules and operations, the Port has already celebrated its two busiest cruise passenger days in history. On Sunday, April 9, 2023, the Port welcomed 67,594 guests, which surpassed the 58,984 guests on Sunday, February 12, 2023, a 12.7% increase.
Additionally, the port is finalizing its Shore Power Program, a partnership between PortMiami, its cruise partners (Carnival Corporation, MSC Cruises, Norwegian Cruise Line, Royal Caribbean Group, and Virgin Voyages) and Florida Power and Light Company. Upon completion, shore power capability will be available at five cruise terminals with the ability to plug in three ships at a time. Shore power will allow a cruise ship to turn off their primary engines while docked, resulting in reduced air emissions.
About PortMiami
PortMiami is among America's busiest ports and recognized at the Cruise Capital of the World and Global Gateway for Cargo. The Port contributes more than $43 billion annually to Miami-Dade County and generates 334,500 direct, indirect, and induced jobs.
---
Ed. Note: Please contact us for more information and to book a cruise Crown Cruise Vacations | Cruise Getaways You Can Afford!
Celebrity Cruises recognized the company's top partners with its 2022 Top Travel Agency Advisor Awards. The 2022 travel partner award winners include:
Online Partner of the Year: Crown Cruise Vacations
Since 2008, Crown Cruise Vacations has had a singular focus: Provide excellent value and excellent service on Cruises, Tours and all forms of Vacation Travel. Based in Princeton, New Jersey, and a proud member of Ensemble Travel Group, we have been able to offer the benefits of working with the largest agencies while maintaining a family atmosphere. We've won many different awards including the 2011 World Travel Award for Leading North American Cruise Agent, and 2018 Partner of the Year for Royal Caribbean. We use our agency connections, relationships and influence to provide you and your family the best values and offers in the travel industry led by travel counselors with hundreds of years of combined travel experience.
Contact Us – Open Seven Days a Week: 9 a.m. to 8 p.m. Mon-Fri, 9 a.m. to 5 p.m. Sat-Sun
Call us toll free: 877-283-1114, direct-dial Locally: 609-945-9801
Address: 120 Village Boulevard, Princeton, NJ 08540
Email us: support@crowncruisevacations.com