Play pickleball at sea on Holland America ships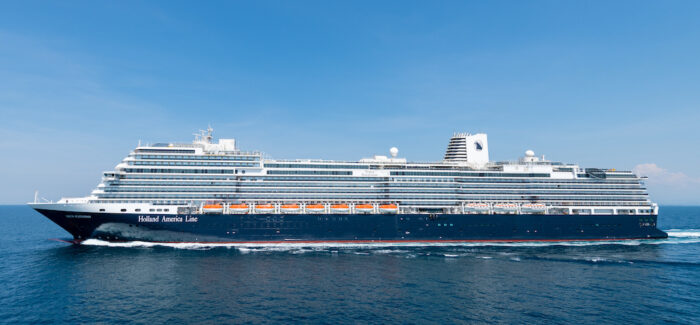 Pickleball fans now can have double the fun– cruising on a grand Holland America ship while playing pickleball at sea. Holland America Line has been exclusively named as the Official Cruise Line of the Professional Pickleball Association (PPA).
"We like to say that travel unites us, but sports do that as well, and Holland America Line is proud to be the first and exclusive cruise line partner of the PPA," Kacy Cole, vice president of marketing for Holland America Line, said in a news release.
"We're excited to offer our guests an elevated pickleball experience as they travel to spectacular scenic cruise destinations," she said. "Mirroring its rapid growth as the fastest growing sport in the U.S., pickleball is the most popular sport on our ships."
All ships in the Holland America Line fleet feature pickleball courts with amazing top-deck views that will be refreshed by February 2023, including adding new PPA Tour partner logos.
Pickleball is a fun sport that combines many elements of tennis, badminton and ping-pong. Played with a slightly modified tennis net with a paddle and plastic ball with holes, paddleball can be enjoyed by all ages and skill levels.
Pickleball was invented in 1965 on Bainbridge Island – a short ferry ride from Seattle, by three dads – Joel Pritchard, Bill Bell and Barney McCallum – whose kids were bored with their usual summertime activities. Since its creation, the game has grown in popularity around the world.
Beginning in February and rolling out fleet-wide by Holland America Line by April 2023, complimentary beginner lessons will be offered by shipboard instructors who will teach guests the rules and basics of playing pickleball, including where the "kitchen" is and what it means to hit a "dink" shot.
"Pickleball has become immensely popular among travel and leisure business categories, because it is uniquely accessible, compatible with a variety of brands and transcends a wide spectrum of age groups and lifestyles," Connor Pardoe, commissioner and CEO of the PPA Tour, said in a news release.
"Holland American has embraced and committed to pickleball in a very exciting way and will bring engaging, 360-degree collaborations between its cruise line and the sport we love," Connor said.
Along with shipboard activations, "How to Play Pickleball" tutorial videos will be featured on in-stateroom TV programming. Guests will be able to purchase branded pickleball starter kits in the shipboard retail shops starting in 2023.
"To play pickleball is to make new friends, from around the neighborhood or around the world," Theresa Haynie, a founding member of Seattle Metro Pickleball Association and an International Pickleball Teaching Professional Association instructor, said in a news release.
"It's a fun game to teach and even more fun to learn," Theresa said. "Now with pickleball on board ships with this wonderful partnership, cruisers and players have one more adventure to experience and take home with them."
Founded in 2018, the Professional Pickleball Association is the professional tour for the sport of pickleball. The organization is based in Salt Lake City, Utah.
"It's wonderful to see guests bond over their shared love of the game," Kacy said. "And the ever-changing scenery makes the perfect pickleball backdrop."
Photos courtesy of Holland America Line
Guests play pickleball on Nieuw Statendam
Doubles play a match on Koningsdam.
Nieuw Statendam
---
Ed. Note: Please contact us for more information and to book a cruise Crown Cruise Vacations | Cruise Getaways You Can Afford!
Since 2008, Crown Cruise Vacations has had a singular focus: Provide excellent value and excellent service on Cruises, Tours and all forms of Vacation Travel. Based in Princeton, New Jersey, and a proud member of Ensemble Travel Group, we have been able to offer the benefits of working with the largest agencies while maintaining a family atmosphere. We've won a number of different awards including the 2011 World Travel Award for Leading North American Cruise Agent,
and 2018 Partner of the Year for Royal Caribbean . We use our agency connections, relationships and influence
to provide you and your family the best values and offers in the travel industry
led by travel counselors with hundreds of years of combined travel experience.
Contact Us – Open Seven Days A Week: 9a-8p Mon-Fri, 9a-5p Sat-Sun
Call us toll free: 877-283-1114, direct-dial Locally: 609-945-9801
Address: 120 Village Boulevard, Princeton, NJ 08540
Email us: support@crowncruisevacations.com