New Viking Mississippi Riverboat Debuts August 2022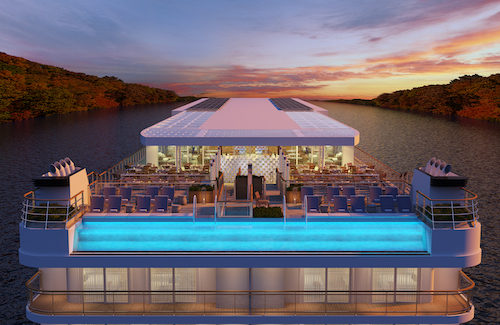 A new riverboat will soon be cruising the mighty Mississippi. In fact, the river is included in her name and prospective passengers are booking up cruises.
"We are pleased with the continued response and support we have received from loyal guests and valued partners ahead of our new Mississippi River sailings," Torstein Hagen, Chairman of Viking, said in a news release.
"As we begin to restart ocean operations this spring, we also look forward to a new chapter in 2022 when we begin sailing our first U.S. river voyages," Hagen said.
The company's first custom vessel, Viking Mississippi, will debut in August 2022 and will sail voyages on the Lower and Upper Mississippi River, between New Orleans and St. Paul.
So strong has the demand been for the cruises that Viking has opened 2024 sailing dates sooner than originally expected. Several sailings have already sold out through the 2023 sailing season.
Hosting 386 guests in 193 all-outside staterooms the new state-of-the-art Viking Mississippi is inspired by Viking's award-winning river and ocean ships. The Viking Mississippi will feature clean Scandinavian design, as well as public spaces that are familiar to guests but that have been reimagined for Mississippi River voyages.
Guests can choose from seven spacious stateroom categories. All staterooms feature a private veranda or French balcony, king-size bed with luxury linens, large flat-screen interactive TV, mini-bar, large glass-enclosed shower and heated bathroom floor.
Among the striking designs is the Sun Terrace with Infinity Plunge Pool. Similar to Viking's ocean ships, Viking Mississippi will have a glass-backed pool experience at the aft, allowing guests to take a dip while fully surrounded by their destination.
Dining aboard the Viking Mississippi will feature daily-changing menus offering delicious regional cuisine and always available classics prepared with fresh, local ingredients.
Every Mississippi River cruise fare includes everything guests need, with no surprises or hidden fees. Cruise fares include one complimentary shore excursion in each port of call, all onboard meals and all port charges and government taxes.
Guests also enjoy many complimentary amenities as part of their fare, including beer and wine with lunch and dinner service, lectures, alternative dining at no extra charge, self-service launderettes, 24-hour room service and free WiFi.
Designed for travelers with interests in science, history, culture and cruising, Hagen often says Viking offers guests "The thinking person's cruise." A focus on cultural enrichment aboard Viking Mississippi means that guests will enjoy destination performances that represent the most iconic music of the region as well guest lecturers that shed light on the region's art, architecture, history, culture, natural world and more.
Viking's arrival to the Mississippi will represent a major commitment to tourism and economic development in many communities along the river. The new cruises are expected to bring more than 5,800 guest to the region in 2022 and 17,600 plus during the first full sailing season in 2023.
Currently scheduled ports of call on Viking's new Mississippi River cruises comprise seven U.S. states:
– Louisiana (Baton Rouge, Darrow, New Orleans and St. Francisville)
– Mississippi (Natchez and Vicksburg)
– Tennessee (Memphis)
– Missouri (Hannibal and St. Louis)
– Iowa (Burlington, Dubuque and Davenport)
– Wisconsin (LaCrosse)
– Minnesota (Red. Wing and St. Paul)
Founded in 1997, Viking continues to expand its destination-focused travel offerings. The company recently took delivery of its seventh ocean ship, Viking Venus. In 2022, Viking will introduce its new expedition cruises with the first 378-guest purpose-built expedition ship, Viking Octantis, launching in January 2022 for voyages to Antarctica and then North America's Great Lakes. A second expedition vessel, Viking Polaris, will debut in August 2022, sailing to Antarctica and the Arctic.
Photos courtesy of Viking