New Silver Nova Cruise Ship to Offer Expanded Outdoor Spaces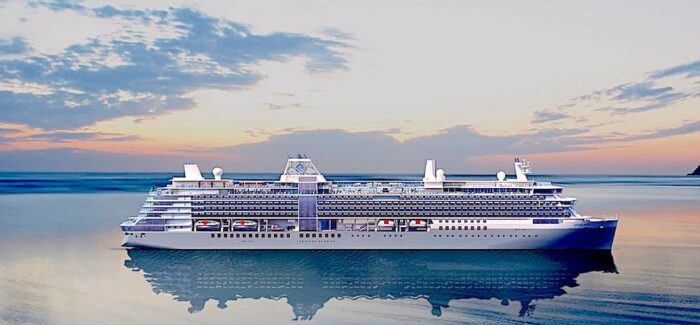 Outdoor spaces will be highlighted on Silversea Cruises newest ship Silver Nova. Scheduled for delivery in 2023, the ship will feature a revolutionary asymmetrical design – a first for the cruise line.
"Silver Nova represents the next iteration of Silversea's unique take on luxury, with an entirely new design approach that will enhance our guests' cruise experience," Roberto Martinoli, Silversea's president and CEO, said in a news release.
"With her outward-facing, asymmetrical layout and her all-new outdoor venues, Silver Nova will offer our guests a brand-new way to connect and engage with each destination," he said. "Moreover, with her groundbreaking environmental credentials, Silver Nova will strengthen our position at the forefront of sustainable cruise travel."
The fleet's 11th ship will offer guests all-new outdoor spaces for an unprecedented openness to the destination, with a reimagined, outward-facing pool deck, an al fresco dining area and a sky bar that offers panoramic views from the ship's aft.
Each space places emphasis on the destinations, with panoramic views that connect guests with the world beyond. Silver Nova's asymmetrical design has enabled the creation of a reimagined pool area and unseen outdoor venues on decks 10 and 11.
Silver Nova will host up to 728 guests in 13 different suite categories – the largest variety of suites in Silversea's history. Every suite on board will offer guests the use of a private veranda.
Silver Nova's pool decks will be the primary outdoor areas in which guests can relax, refresh and socialize with ample space for 280 sunbeds on decks 10 and 11. The horseshoe-shaped pool area will occupy a generous space on the starboard side of the ship, affording unobstructed views on the destination from the swimming pool, adjacent pool bar and sunbathing areas.
Silver Nova's uppermost level, deck 11, forms an amphitheater-shaped structure with deck 10. It will offer guests a quieter, more intimate space for relaxing, with expansive views over the destination and out to sea. At its center, overlooking the ship's port side, extends an all-new infinite edge whirlpool, named The Cliff Whirlpool.
As well as supporting a new design approach, Silver Nova will push boundaries in ultra-luxury cruise travel with pioneering sustainability credentials. She is set to become the world's first low-emissions cruise ship with advance hybrid technology that uses fuel cells, emitting zero harmful emissions while in port – an industry first.
Silver Nova renderings courtesy of Silversea Cruises
---
Ed. Note: Please contact us for more information and to book a cruise! Crown Cruise Vacations | Cruise Getaways You Can Afford!