Hoosier 1835 canal 'shanty' gets new life as Riparian House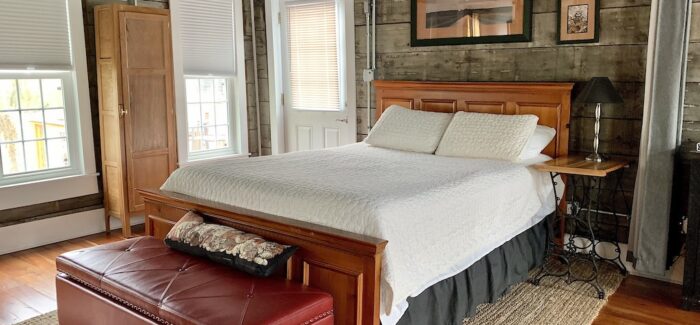 When Justin Gillespie saw the dilapidated canal worker house, he wasn't sure the structure could be saved. However, Justin valued the history of his Hoosier hometown and decided to undertake the massive renovation project.
"I grew up here in Lagro and didn't want to see these historic buildings destroyed," he says. "A lot of blood, sweat and tears have gone into this but I'm proud of how we saved something that could have been bulldozed down and forgotten about."
Today, the Riparian House is a loving tribute to what once was and serves as an Airbnb for guests who enjoy staying at the comfortable little house at 940 Washington Street on the Wabash River. Visitors can kayak or canoe on the river, walk or bike the bike trail just steps from the Riparian back deck or visit nearby state forests and historic Wabash.
"A lot of folks tell me they want to stay here just to get out of the city," Justin says. "It's a great place for a quiet getaway."
As for that name, Justin says, "it's a legal term meaning located on the banks of a river. It seemed like a good name for the house."
Hard to tell from seeing the now beautiful Riparian House how it must have looked when Justin and Evansville attorney Beverly Corn Van Haaften saw it at a 2017 auction. "Beverly said 'no.' She didn't want to have anything to do with it," Justin recalls.
No wonder. The 500-square-foot shanty built by and for Irish immigrants to work on the Wabash and Erie Canal had half its floor gone and huge holes in the roof. The only way such a massive project would work, Beverly said, was if she had a local business partner. That's when Justin stepped in.
After the two bought the ramshackle house for $2,700, Justin began to have his doubts. Built around 1835, the structure seemed beyond repair. But contractors and architects hired to inspect the property said it could be saved.
Project Takes Blood, Sweat and Tears
First was salvaging what could be salvaged, securing the exterior of the house and installing a new roof. "After that, I was able to do a lot of work on it myself," Justin says. "We put it back as original as we could."
Today, the house has a sheet metal ceiling, cherry-stained wood floors, new bathroom and a deck on the back of the house. The dirt floor cellar was finished for storage.  Heat and air conditioning have been installed. After years of hard work, the Riparian House was ready for guests in the summer of 2020.
"Riparian House is one of six remaining canal houses in Lagro and the only house maintaining its original structure," Justin says.
The Riparian House's one-room, open-floor plan includes a bedroom area, living room, dining spot, kitchen and adjoining bathroom. A curtain can be drawn to separate the living area from the bedroom.
As if that intensive rehabilitation project were not enough to scare off any mortal being, Justin and his sister Darcie decided to save a canal house next to the Riparian House. "It wasn't even for sale but we made an offer and bought it," Justin says. "It just had a dirt floor and was in really bad shape."
This crumbling canal house, the Gillespies decided, would become a two-story bar and eatery. A family-friendly restaurant would be on the upper level and a bar for adults 21 and older on the lower level.
"There wasn't any eating establishment in town. The last one closed about 10 years ago and we thought Lagro needed a place to eat and drink," Justin says. "We wanted to name it the Speakeasy but that name was already taken so we decided to name it the 950 Speakeasy Bistro since 950 is its address."
Rolling up their sleeves, the Gillespies went to work and spent more than a year converting the old canal house into the present-day eatery and bar. The décor includes a wood bar, stone bar back, metal ceiling and pendant lights. The new business opened July 2021.
Creating 950 Speakeasy
The Speakeasy menu features pizza, sandwiches, soup, salads and charcuterie boards.  "The recipes are a team effort," Justin says. "Ed's Bread is in honor of our father who passed away. He liked to serve garlic bread and garlic bread with cheese."
Seeing their hometown being revitalized is a wonderful feeling, Justin says. With a population of about 500, the tiny town was once a bustling place. Settled in 1800, the town was named in honor of Chief LaGros of the Miami Indian tribe that lived in the area.
Construction of the Wabash and Erie Canal brought a bustling boom around 1834. The longest canal ever built in North American, the Wabash and Erie spanned about 497 miles from Toledo, Ohio, to Evansville, Indiana, from Lake Erie to the Ohio River.
The Wabash and Erie Canal was created to provide a faster route to transport goods and people. The canal was estimated to cost $10 million. Construction was plagued by many seemingly insurmountable problems – finances, cholera, worker shortage and pesky muskrats that burrowed into canal walls causing massive leaks and washed-away levees.
Local men were primarily farmers so Irish immigrants were brought in for canal construction. For housing, the Irish workers built "shanties" close to whatever section of the canal or waterway being worked on. A church that can be viewed from the Riparian House and Speakeasy is St. Patrick's Roman Catholic Church, founded in 1836 and built by Irish workers to serve Irish canal workers.
The church is the second oldest Catholic Church in Indiana and was put on the National Register of Historic Places in 1999. The oldest is in Vincennes, also on the canal route. The Lagro church still offers mass the first Sunday of the month at 11 a.m.
Canal Ceases Operation
The canal began operation in the summer of 1843 but only operated about a decade before it became apparent that the canal was not economically viable. A new less-costly source of transportation was on the horizon. A steam-powered machine placed on rails could transport goods a lot faster than the slower canal. Finally, in 1874, the last canal boat docked in Huntington and the great waterway was abandoned.
Lagro quickly began to look like a ghost town. Gone were the three hotels, numerous stores, banks and taverns. Residents moved away. But those that remained have now decided to revitalize their hometown.
The Lagro Canal Foundation is in the process of restoring the 1913 Citizens Bank, 1853 Masonic Lodge and 1840 Improved Order of the Red Man Lodge with help from Indiana Landmarks. The opening of the Riparian House and 950 Speakeasy have meant huge steps forward for Lagro.
"When I was a kid, I never knew exactly what I wanted to do," Justin says, noting that his mother can't believe that "the boy who wouldn't clean his room" has taken on such major projects.
"I think this what I was meant to do," Justin says. "It's what I like doing, helping my hometown come back to life."
For more information: Contact Riparian House at 260-571-1499, www.riparianhouselagro.com,  info@riparianhouselagro.com or 950 Speakeasy at 260-205-8775, www.950speakeasy.com.
Story and photos by Jackie Finch
Riparian House photos
The Riparian House was once one of the 'shanties' built for Irish canal workers.
The Riparian House before renovation. -Photo courtesy of Justin Gillespie
Back deck of the Riparian House.
A curtain can be pulled to separate the bedroom from the rest of the house. (Cover photo)
The one-room house provides a peaceful getaway.
Justin Gillespie and his sister Darcie are co-owners of the 950 Speakeasy Bistro with its backyard fire pit.
The 950 Speakeasy Bistro also was once a dilapidated canal house.