Nashville earns global designation as 'Safe Travels' Destination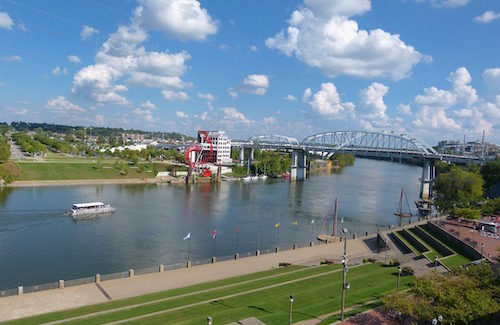 When riverboats dock in Nashville, they will be visiting one of only two destinations in the United States to be designated as a "Safe Travels" destination.
"From the beginning of the pandemic, Nashville has worked to be a safe city for residents and visitors alike," Mayor John Cooper said in a news release.
"This designation is great news for the recovery of our valued hospitality industry and our city as a whole. The industry creates thousands of jobs and is key to Nashville's economic recovery."
Nashville was recognized by the World Travel & Tourism Council. The only other U.S. destination currently with a Safe Travels designation is the Lake Tahoe Visitor Authority.
"Nashville's inclusion in the Safe Travels program speaks to our early efforts to send the right message in our Good to Go program of putting safety first," said Butch Spyridon, president and CEO of Nashville Convention & Visitors Corp, in a news release.
"While we are still taking precautions and remain vigilant about masks and distancing, this is great validation as we prepare for the return of tourism," Spyridon said. "This kind of global recognition will put Nashville top of mind as a destination and give us a jumpstart when international travel starts to recover."
Good to Go was launched in May 2020 and currently has 730 members, which includes Nashville hotels, restaurants, attractions, transportation companies and more. It is a voluntary program that provides guidance from the Metro Public Health Department (MPHD) and the Centers for Disease Control and Prevention (CDC), along with access to toolkits and support to help carry out the recommendations.
Vanderbilt Health's leading infectious disease experts helped develop key elements of the program and are involved with ongoing learning and information sharing. Good to Go businesses also get access to expertise from Ryman Hospitality Properties.
The Safe Travels stamp is the world's first-ever global safety and hygiene stamp for the travel and tourism industry, designed specifically to address COVID-19 and similar outbreaks, according to the World Travel & Tourism Council.
While the program takes into account current World Health Organization and CDC guidelines, it is continuously updated as new information becomes available about COVID-19. The Safe Travels stamp is based on self-assessment and is not a certification. The only other U.S. destination currently with a Safe Travels designation is the Lake Tahoe Visitor Authority.
The Safe Travels program is just one of several efforts by the NCVC to start the recovery of the city's tourism industry, which will be key to Nashville's economic rebound. In 2019, the industry generated a record $7.5 billion in direct visitor spending, one-third of all visitor spending statewide, and attracted a record 16.1 million visitors.
In 2020, however, visitor spending only topped approximately $3 billion due to the pandemic, resulting in business closures and major job loss in the hospitality industry.
Other keys to the Nashville's recovery include the addition of more than 5,000 new hotel rooms, the National Museum of African American Music and Fifth + Broadway opening, and major events like the Music City Grand Prix in August.
For more information: Contact the Nashville Convention & Visitors Corp. at (800) 657-6910, www.visitmusiccity.com
Photos by Jackie Sheckler Finch