Free early morning visits to Elvis' grave now open again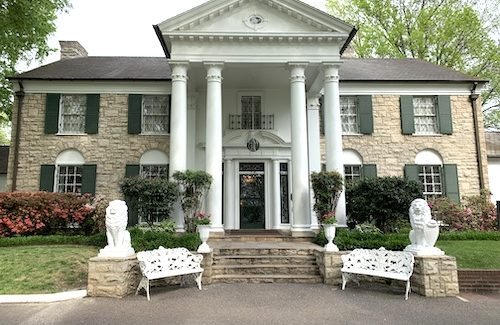 After being closed for almost a year, the free-admission walk-up visits to the grave of Elvis Presley are now open again. Visitor walk-up times are daily from 7:30 a.m. to 8:30 a.m.
Although many people may not know it, fans can visit Meditation Garden at Graceland in Memphis without charge before the mansion opens for the day. The Garden was closed to walk-up times in March 2020 because of COVID-19.
After dying at Graceland at age 42 on Aug. 16, 1977, Elvis was buried in Forest Hill Cemetery in Memphis. However, when paparazzi, curiosity seekers and overzealous fans continually converged on Elvis' grave at the cemetery, the Presley estate thought it best to exhume his remains and bury him in Meditation Garden at Graceland, the longtime home of Elvis.
The remains of Elvis' mother Gladys, who died in 1958, and her original headstone also were moved to Meditation Garden. In 1979, Vernon Presley was laid to rest between his wife and son.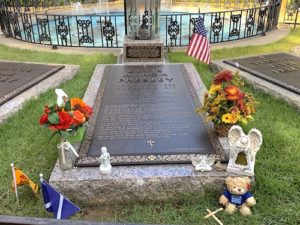 Less than a year after that, Elvis' paternal grandmother, Minnie Mae Hood Presley, died and was buried in Mediation Garden. There is also a grave marker in memory of Elvis' twin brother, Jesse Garon, who died at birth and is buried in an unmarked grave in Tupelo, Mississippi.
Benjamin Keough, the grandson of Elvis Presley and the son of Elvis' daughter Lisa Marie Presley, also has been buried at Graceland. The tomb, simply marked "Benjamin Storm Presley Keough" is on the south side of the circular pool-with-fountains spot in the small garden space, on the opposite side of the burial plots for Elvis and other family members.
Benjamin Keough died July 12, 2020, at a family home in Calabasas, California, from a self-inflected gunshot wound. He was 27 years old.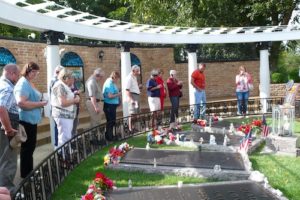 The family home of Elvis for 20 years, Elvis bought Graceland in 1957 at age 22. Built in 1939, Graceland was named for its former owner's great-aunt, Grace Toof.
Legend goes that when Elvis was a youngster, he told his parents he would grow up to make a lot of money and buy them the finest house in town. He would take care of them and end his parents' years of poverty and struggle, Elvis vowed. Buying Graceland was the American Dream come true for Elvis and his family.
At Graceland, Elvis used Meditation Garden as a private retreat. Consisting of a curving brick wall with stained glass windows, a fountain and a semi-circle of Greek-inspired columns, Meditation Garden is the last stop on an organized Graceland tour.
One time when I visited Graceland, a light rain was falling as we left Meditation Garden. Leaning over Elvis' grave was a group of Japanese visitors. Solemnly, they bent as close as they could to Elvis' final resting place, splashing the water from his grave up onto their faces.
I don't know why they did it.
The Graceland guides didn't stop them. No one said anything. After a few minutes, the visitors straightened up and took leave of Elvis, the rain mingling with their tears.
For more information: Contact Graceland at www.graceland.com or Memphis Tourism (901) 543-5300, www.MemphisTravel.com.
Photos by Jackie Sheckler Finch