Here come the Steamcoaches!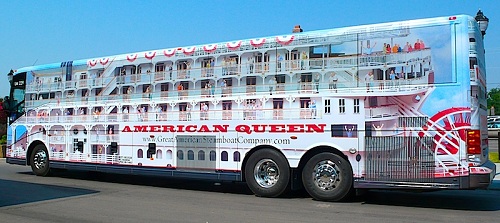 Here comes the American Queen Steamcoach rolling down the road. The road?
Yep, the popular riverboat now has three personalized steamcoaches decorated to look like their namesake. And they sure are getting second looks whenever they pass by.
The colorful motorcoaches are painted to closely resemble the exterior of the American Queen, complete with the big red paddlewheel and "passengers" waving from the decks.
People stop and stare at the unusual touring vehicle. It certainly is easy for American Queen passengers to identify their special bus when it pulls up.
The well-organized American Queen shore excursion program allows passengers to pick up a special American Queen map for each town where we dock, hop on a comfy large steamcoach, hop off at one of the attractions on the map and hop back on for the next stop or to return to the boat. Some passengers just like to ride the whole loop first to get the lay of the land and then decide where to get off.
The maps are very easy to read with a thick red line showing the steamcoach route, the stops at attractions along the way, the layout of the town's main center and where the boat is docked. Each shore stop seems to have about six attractions.
The steamcoaches are also unusual in that they follow the vessel along its cruise itinerary route. Passengers have the same guide and the same coaches in each port. That really makes sense – not only because it is nice to see familiar coach drivers and guides but also because it assures that the bus will actually be there.
Recently I was on a cruise where passengers climbed a steep hill in the heat to catch a scheduled bus to take a tour. An hour went by and the rented bus still hadn't arrived. When the cruise director called the bus company, she learned that they had forgotten about the reservation and would be happy to send a bus on its way. Too late.
Not a good thing. That tour was cancelled, of course. Passengers were unhappy because they had looked forward to the tour and waited in the heat. Cruise line representatives were unhappy because their passengers were and because the cruise line had to refund the tour fees to passengers. And that bus company sure got a serious black mark against its reputation.
The American Queen currently has three steamcoaches, one of which is handicapped accessible. The Queen's crew did a great job of helping people with mobility problems get up the docking area to a waiting steamcoach.  Golf carts and shuttle buses would be waiting at our stops to help people get to steamcoaches. Historic cobblestones are very pretty to see at boat landings but they sure aren't fun to walk on.
By Jackie Sheckler Finch