Green Bay Home of Fan-Owned Packers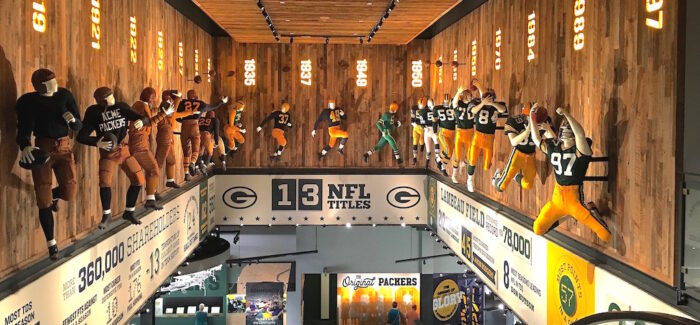 As an owner of the Green Bay Packers, Jeff Gumz is sharing the amazing tale of his 103-year-old football team.
"But don't let the fact that I'm an owner of the Packers impress you," Jeff says with a laugh. "There are about 500,000 of us throughout the United States and around the world invested as owners of the Green Bay Packers."
The Packers pride themselves on being the only publicly-owned, not-for-profit major league professional team in the United States. Instead of having one owner or a handful of partners like every other NFL team, the Packers are owned by hundreds of thousands of fans.
How did that financial tradition start?
It was back in 1923, four years after the team was founded, Jeff says. "The young football team was on the verge of bankruptcy so they sold shares to the community to keep the lights on."
It worked and has been done ever since. The stock doesn't pay a dividend, Jeff adds. "There really are no benefits, except to say I am an owner of the Green Bay Packers and that's what's most important to us."
Like many of those "owners," Jeff has his share framed and hanging on a wall in his home. He also is a tour guide at Lambeau Field. As a result, Jeff says, the Packers are known worldwide for having a special bond with their fans and the community. I certainly saw that on a Green Bay visit. With a population of only about 105,000, the Wisconsin city is definitely Packers mecca.
Green Bay Glows Green and Gold
Look at the Packers home, Lambeau Field, which is located at 1265 Lombardi Avenue. That, of course, is Vince Lombardi, the Hall of Fame coach.
To get to the famed field, drive along Holmgren Way – named for Super Bowl-winning former Packers coach – and go past Bart Starr Road and Reggie White Way. Then there's Donald Driver Way, Brett Favre Pass, Mike McCarthy Way and Tony Canadeo Run.
Kids and adults alike sport cheeseheads – those strange-looking orange hats that resemble gigantic cheese wedges. Green and gold is a favored décor wherever I went. Autographed memorabilia, pictures, flags, posters, replica Lombardi trophies, jerseys and plenty of other Green Bay Packers items can be seen in houses, businesses and bars almost anywhere in Titletown USA.
The Packers Heritage Trail is a free walking, biking and/or driving tour throughout Green Bay and De Pere. The trail features 22 bronze commemorative plaques located at sites where the history of the Packers and their fans unfolded.
Across the street from Lambeau Field is the Titletown complex where kids and adults can play on the playground or run the 40-yard dash against the clock or try a game of flag football on the full-size turf field. Winter brings snow tubing fun at Ariens Hill and ice skating on the plaza. Most activities are free.
It all started, Jeff says, on August 11, 1919, in the dingy second-floor editorial rooms of the old Green Bay Press-Gazette building in downtown Green Bay. Details of the meeting are slim but by the end of a second meeting three days later the city had a football team.
It had a captain – Curly Lambeau; a manager – George Whitney Calhoun; and a sponsor – the Indian Packing Company. "On August 13, 1919, the team was first referred to as the 'Packers.' The name stuck," Jeff says.
The team played home games on a vacant field at Hagemeister Park with no fence or bleachers. Calhoun passed a hat to collect spare change and help cover expenses. But that first season, the Packers thrilled fans by winning 10 games and losing one.
Green Bay was the smallest city in the National Football League and, except for a brief period in the 1920s, Green Bay has remained the smallest city ever since.
Longest NFL team host city
It is also the longest NFL team to stay in one host city. A sign in the Packers Hall of Fame sports a quote by Mark Murphy, president and CEO of the Green Bay Packers, that says it all:
"We have two main objectives. First is to win championships. Second is to make sure the team stays in Green Bay."
Visitors can take guided tours of Lambeau Field and also can visit the Packers Hall of Fame located in the atrium entrance of the field. The two-story Hall of Fame is packed with a century of Packers history, including four Super Bowl trophies and a replica of Vince Lombardi's office.
Videos and audios highlight Packers history. It's fun to hear Packers legends describe historic games in their own words. The trivia also is fascinating.
For instance, I always thought that Packers player Johnny Blood was his true name. It wasn't.
His real name was John McNally. He still had a year of college eligibility remaining when he decided to take a shot at pro football. To protect his eligibility, he needed an alias, a common practice in the 1920s.
He and a football playing friend, Ralph Hanson, were passing a theater where the movie "Blood and Sand" starring Rudolph Valentino was playing. Suddenly, Johnny exclaimed to his friend, "That's it. You be Sand. I'll be Blood."
So "Johnny Blood" was born and played 14 seasons in the NFL. He was a major contributor to Green Bay Packers championship teams in 1929, 1930, 1931 and 1936. He died Nov. 28, 1985, at the age of 82.
Packers ride kids' bikes to practice
One of the most cherished Packers traditions has been going on for decades. Dozens of kids line up with their bikes near Lambeau Field hoping a Packers player will choose to ride their bike to Nitschke Field, the Packers outdoor practice facility about a quarter mile from Lambeau Field. Team practices are open to the public during Packers Training Camp.
While there remains some debate about exactly when and why the tradition started, there are photographs of players regularly riding local kids' bikes to practice and back to the locker room during the Vince Lombardi era, which began in 1959.
Some say it started when a few players were hurrying and asked to borrow kids' bikes so as not to be late to practice. But all the reports include kids just hanging out to watch the Packers practice. And the tradition grew from there.
"It's just another thing that the Packers do to show their love for their fans," Jeff says. "And we all love our Packers."
For more information: Contact the Green Bay Convention and Visitors Bureau at (888) 867-3342, www.greenbay.com
Photo cutlines:
Photos by Jackie Sheckler Finch
Packers uniforms throughout the year are displayed at the Hall of Fame. (cover)
Cheeseheads are popular hats in Packers country.
Lambeau Field has no dome.
Bike is too little for him and helmet is too big for her at one of the annual practice events.
Packers cookies are popular at Uncle Mike's Bake Shoppe.
Juan Hernandez with one of his 888 Cheese & Co restaurant favorites.
Beloved Packer Bart Starr's 1967 Corvette is displayed at The Automobile Gallery.
---
Ed. Note: Please contact us for more information and to book a cruise Crown Cruise Vacations | Cruise Getaways You Can Afford!
Since 2008, Crown Cruise Vacations has had a singular focus: Provide excellent value and excellent service on Cruises, Tours and all forms of Vacation Travel. Based in Princeton, New Jersey, and a proud member of Ensemble Travel Group, we have been able to offer the benefits of working with the largest agencies while maintaining a family atmosphere. We've won a number of different awards including the 2011 World Travel Award for Leading North American Cruise Agent,
and 2018 Partner of the Year for Royal Caribbean . We use our agency connections, relationships and influence
to provide you and your family the best values and offers in the travel industry
led by travel counselors with hundreds of years of combined travel experience. 
Contact Us – Open Seven Days A Week: 9a-8p Mon-Fri, 9a-5p Sat-Sun
Call us toll free: 877-283-1114, direct-dial Locally: 609-945-9801
Address: 120 Village Boulevard, Princeton, NJ 08540
Email us: support@crowncruisevacations.com