Dispatches: On the Rails to Copenhagen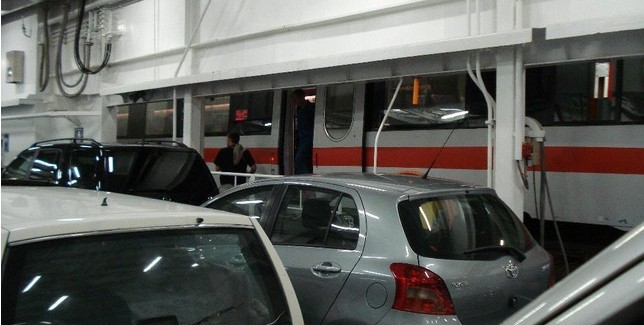 Part of our irregular Dispatches series, Roger uncovers from his 2003 travel diary a most unusual European train ride.
It had been a long trip to Denmark. An overnight train from Paris, and then another five hours from Hamburg. Running a bit tight on funds, I'd eschewed the somewhat tasty train restaurant for a selection of baguette and cheese from a Paris market just before the train left. It was a tiring trip, but still fairly fulfilling. An early morning stroll to stretch my legs aboard the train turned into a chance encounter with a gentleman named George. A minister from the Midwest, he was hiding out. Apparently, his nonsmoking train compartment contained a somewhat crazy French woman, loose with her hands and possessing a complete disregard for smoking policy on the train.
We got to chatting. It was nice to encounter another American, and he was thankful for the chance to speak in English with someone else after a week or so without the ability to do that in France. Turns out we were both heading to Copenhagen on the same train. With a tight connection, and a need to sprint to meet his cruise upon arrival, he was hoping to run into someone that could help him navigate the train station in Germany where we needed to change trains.
He hid out for the last couple hours in my smoke free train compartment… and we set off to our connection together. The transfer turned out to be a bit easier than he thought. Even in big stations like Hamburg's Hauptbahnhof it tends to be pretty simple to change over. 10-15 minutes is usually enough time to get from track to track and with a little hustle, a quick beer and a bite too.
The train from Hamburg to Copenhagen is unlike anything I have ever seen before. Sleek, modern stainless steel trains with comfortable seating – it seemed like a normal train ride, until we got to the Baltic Sea. The train from Hamburg to Copenhagen is special because once the train pulls into Puttgarden, it stops and all the passengers have to get off. This isn't a normal train stop, however, the train is on a boat! Once the train is safely stowed on the ferry, its sets itself on the way across the bay to Denmark, about 12 miles away. This 45 minute ferry trip offers guests a chance to stretch their legs… George and I were still hanging out and chatting and when he saw me pull out my sad bread and cheese for lunch, pity must have taken over because the next thing I know, I'm enjoying a hot lunch and a cold beer as we watch Denmark come into view.
I've taken this trip by train three or four times now, and every trip has been an adventure with a new story and a new friend. There was the hour in the smoking car with the gentleman who brought his hookah along for the trip, giving Scandinavia a definite Middle Eastern flair for the day. There was the conversation with the Danish gentleman who turned out to work for Warner Brothers and the end result of this nice chat was a gift package a few weeks later consisting of the latest hits from Denmark in my US mailbox.
The oddity of this particular train makes the Hamburg-Copenhagen run feel particularly special to me, but in reality – train travel is generally a great way to slow down and make connections and find new perspectives that just isn't possible in a car or on a plane speeding across the continent. My passion for travel has always been in the experiences and moments of pure wonder, joy and absurdity that happen when eyes are kept open and no judgment is passed.
Oh, by the way, George made his cruise with no problem – in case you were wondering. I ended up wandering the streets of Central Copenhagen for the first time, inadvertently ending up marching in a parade/demonstration to save the Christania squatters village on the way to my digs for the night – but that is a whole other story.