Carnival Chilled Peach Soup Recipe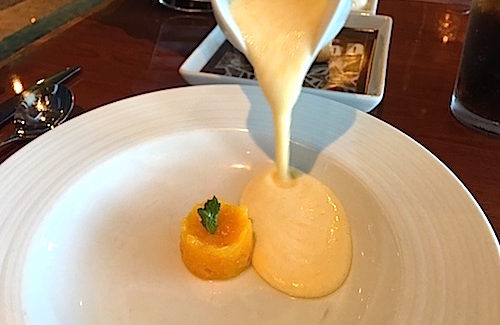 I remember the first time it happened to me. I had enjoyed clam chowder many times, particularly when I lived near Cape Cod and worked at a Massachusetts newspaper.
But on a long-ago cruise when I ordered clam chowder, I received a big white bowl with some chopped clams in the bottom. Mighty skimpy.
Then the dining room waiter poured a small pitcher of clam chowder over the clams. That's more like it, I thought.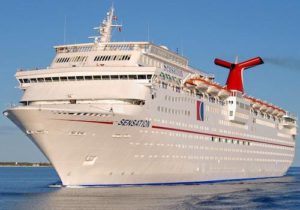 On my Carnival Sensation cruise in 2019, I saw the same look on the face of a newlywed bride at the dining room table next to mine. She had ordered chilled peach soup.
What she got was a big white bowl with a blob of chopped peaches. Then the dining room waiter poured a pitcher of soup over her peaches. I could hear the bride and groom laugh as they realized how puzzled they had been.
Her chilled peach soup looked so good that I decided to order it, too. Quite tasty. Very refreshing. Sweet but not too filling.
Here is the recipe for anyone who would like to make it at home. For myself, I think I'll just take another Carnival cruise and order it again. Somehow, food often tastes better on a cruise.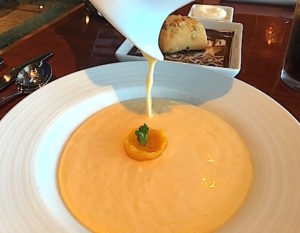 Carnival Chilled Peach Soup
Ingredients:
3 cups frozen peaches
2 cups milk
1 cup whipping cream
½ cup sour cream
Sugar to taste
Directions:
Place two cups frozen peaches and other ingredients in a blender. Blend on high until smooth. Add sugar to taste. Chill overnight.
With the remaining one cup of peaches, blend on high until fairly smooth. Keep frozen until ready to serve. Sugar to taste. Place a rounded spoonful of peaches in bowl before serving. Pour chilled soup atop.
Photos by Jackie Sheckler Finch