'Bird Whisperer' Gives Injured Raptors a Forever Home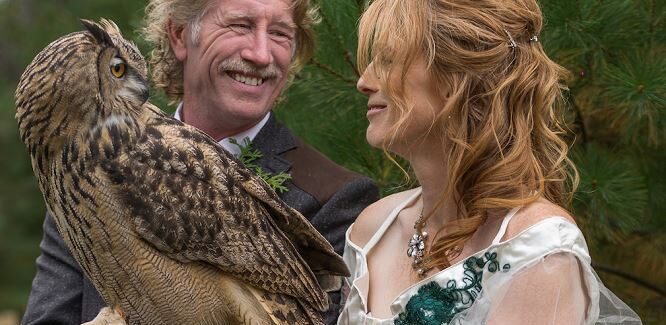 In a calm clear voice, Rob Hults starts talking to the huge Golden Eagle perched on his hand. Turning its head one way, then another, the bird named Mesa seems to understand what Rob is saying.
No wonder Rob is nicknamed "The Bird Whisperer."
Photos by Jackie Sheckler Finch
Rob Hults with Mesa the Golden Eagle
Sanctuary volunteer Bill Bauernfeind with Radar the Barred Owl
Rob and volunteers built mews for resident birds.
Percy the Merlin
Rob and Amy Hults at their wedding with 'best bird' Aisling the Eurasian Eagle Owl. (Cover photo, by Alisa Landman)
And Mesa, plus the other 18 birds at the Open Door Bird Sanctuary in Jacksonport, Wisconsin, would likely not be alive today if not for Rob and his volunteers.
"Mesa came from Utah. That's why we gave Mesa that name," Rob says. "Mesa can't fly. X-rays show signs of arthritis but we don't know if that is due to an injury or is naturally occurring."
With a wingspan of up to seven feet, Golden Eagles are North America's largest predatory bird and can live up to 32 years in the wild. "The oldest known Golden Eagle in captivity lived to be 46 years old," Rob says.
So how did a self-employed building contractor end up spending his "retirement years" trying to save damaged birds? Seems Rob was always interested in helping wildlife. Growing up in Germantown, Wisconsin, Rob apprenticed as a home-remodeling contractor after high school. As a hobby, he volunteered at nature centers.
However, it was on his way home from a St. Louis workshop on birds of prey that Rob decided to make a major change in his life. With a notepad next to him on the seat of his truck, Rob began writing down what he would need to work with birds fulltime.
"I was 46 years old," he says. "But that changed my life forever."
                                           Gaining raptor experience
Saving up enough money to allow him to learn more about working with birds of prey, Rob headed to Ireland to volunteer at the Irish Raptor Research Center. In exchange, Rob gained valuable raptor handling experience.
A quick learner, Rob was soon offered a job at the Ireland center. But he chose to return to America and accepted a position at the Ohio Bird Sanctuary. That lead Rob to his goal – creating a bird sanctuary of his own.
To start his own bird sanctuary, Rob again made a list of what he needed and where his dream sanctuary would be located. For property, he needed at least 20 to 40 acres. Secluded but not isolated so visitors could pay to visit and help fund the sanctuary. An area that supported environmentalism and would have enough volunteers to help him staff the sanctuary was very important.
"Door County fit all those requirements," Rob says. "It is perfect."
In April 2014, Rob received his first bird – a four-week old Eurasian Eagle Owl. "He was hand reared and used to people and would not survive in the wild," Rob says.
Not native to the United States, the Eurasian Eagle Owl is found throughout Europe, the Middle East, Russia and Asia. "The Eagle Owl's orange eyes and great size make it distinctive," Rob says, adding that Eagle Owls have been seen preying on young deer or fully grown foxes.
For the first bird's name, Rob chose an Old Irish word, Aisling. "It means 'dream' because getting him meant our sanctuary dream was coming true."
Many volunteers helped from the inception but the first Raptor Team member was a lifelong Door County resident who had worked at The Farm caring for education animals. Her name was Amy. Now her name is Amy Hults. The two fell in love and got married. "Aisling was our 'best bird,'" Rob says.
A Certified Veterinary Technician, Amy also works for Peninsula Veterinary Service in Sturgeon Bay. Growing up as the fourth generation on Cherrydale Farm, Amy has worked with animals since a youngster when she fed and milked the family's dairy calves. The Hults now grow organic blueberries and asparagus on her family farm.
                                                Building the sanctuary
Rob's construction skills came in handy when he, along with his volunteer construction team, built the sanctuary's aviaries and care facilities. A small Nature Center contains raptor information, coloring books and crayon packets for children, souvenirs and "touch" bird items such as feathers and talons.
"People are often curious about what a feather really feels like or how sharp a talon is," Rob says, adding that the items were from birds killed in vehicle accidents or by other prey.
As a private nonprofit organization, the sanctuary emphasizes environmental education and is a family-friendly destination to visit during summer general admission days or on private tours.
Because Door County can have extremely cold winters, birds like Merlins and a Turkey Vulture at the sanctuary are provided a climate-controlled indoor living space. Outdoor birds like Red Tailed Hawks and Great Horned Owls naturally spend winter outdoors so they "bundle up" by adding hundreds of extra down feathers before bitter cold temps arrive.
"We also add wind-blocking panes to their mews in the fall for some extra shelter," Rob says. "We have smaller enclosed jump boxes where they can roost on the coldest days and nights. We also provide them with heated perches in their jump boxes."
Among the other sanctuary residents are Red-Tailed Hawks named Bonnie and Clyde who arrived at the sanctuary together. "Bonnie has significant wing damage from a car accident," Rob says. "She has been with Clyde for some time, not mated but definitely good companions."
Grace, Blackbeard and Bill are Great Horned Owls. Grace and Blackbeard each lost an eye in a car accident. A female who at first was thought to be a male, Bill also can't live in the wild due to poor eyesight.
Then there's Radar, the Barred Owl who was hit by a car and lost most of her vision. Often seen in Door County, young Barred Owls climb trees by grasping the bark with their bills and talons, flapping their wings and walking up the trunk.
Rob and Amy are so proud and caring of the sanctuary and the residents there that the couple decided to live on the premises. Rob built a home right next to the sanctuary, just a short walk to his beloved birds and the wonderful volunteers who assist with their care.
For more information: Contact Open Door Bird Sanctuary at 920-493-2473, www.opendoorbirdsanctuary.org or Destination Door County at 800-527-3529, www.doorcounty.com.