American Queen Offers Free Use of Bikes on Cruises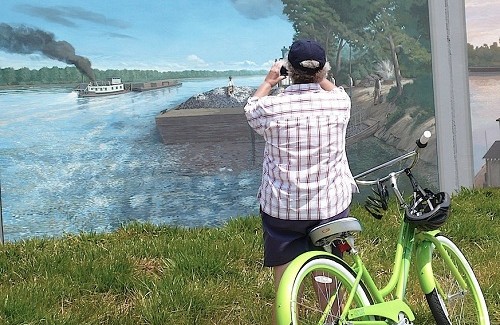 Marlene Heideman decided to get in some exercise and sightseeing at the same on a cruise stop of the American Queen riverboat.
Rolling a bicycle off the boat for a quick tour of Paducah, Kentucky, the Cincinnati woman says the pedaling transportation is a wonderful option.
"You have more freedom on a bicycle than on a tour bus," Marlene said. "You can stop whenever you want to take a picture or look at something. I think it's great that the American Queen has these bikes for us to use without charge."
The neon green bicycles are a new perk aboard the American Queen. Passengers can use the bicycles and helmets free of charge to visit riverfront towns when the paddlewheeler docks.
Marlene had cruised on all three boats – the American Queen, the Mississippi Queen and the Delta Queen – before they went out of business in 2008.
"I was really disappointed when they stopped," Marlene said. "I've been on the Delta Queen twice, the Mississippi Queen once and the American Queen four times. I didn't want to see the boats get lost. I felt sorry that our children might not be able to ride on a riverboat the way we had."
When she heard that the American Queen was back on the rivers in April 2012, Marlene says she was thrilled and quickly booked a cruise.
"It's a beautiful way to travel," she said. "Having the free bikes is a really nice addition."
By Jackie Sheckler Finch