American Cruise Lines Partners with Smithsonian for Dorothy's Ruby Slippers Exhibit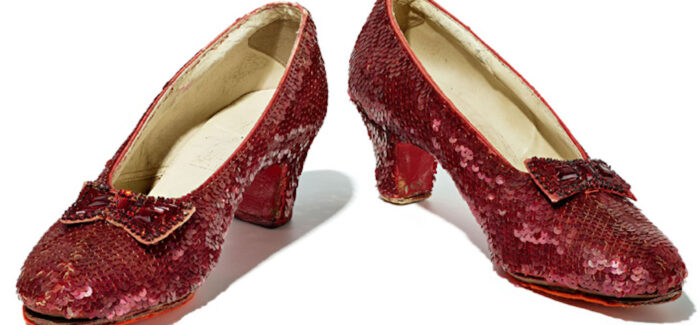 Remember the ruby red slippers that Dorothy wore to click her heels and proclaim, "There's no place like home?"
Well, the famous slippers from the beloved movie "The Wizard of Oz" will soon be featured in an exhibit at Smithsonian's National Museum of American History.
The presenting sponsor for the special exhibit will be American Cruise Lines. The "Entertainment Nation" exhibit will open in the fall of 2022 at the National Museum of American History in Washington, D.C.
"The Ruby Slippers remind us to appreciate that there really is no place like home. While they push us to test our bounds, they have a power that draws us back and connects us to family and community," Charles B. Robertson, president & CEO of American Cruise Lines, said in a news release.
"Dorothy's immortalized phrase – 'There's no place like home' – is something we feel each day, as we appreciate everything we have right here at home in the USA," he said. "American Cruise Lines is proud to expand on our 20-year relationship with the Smithsonian by presenting the Ruby Slippers and we are honored to be part of 'Entertainment Nation.'"
This is the first time in its history that the museum has devoted extensive gallery space to showcase and illustrate how the American entertainment industry, in its many forms, has influenced and reflected our shared American culture.
From Prince's guitar to Muhammad Ali's boxing gloves to Dorothy's ruby slippers, "Entertainment Nation" will feature the iconic cornerstones that celebrate our values, experiences, heartbreaks and triumphs – illuminating what it means to be American.
"The ruby slippers hold symbolic and lasting meaning in American culture, representing our deep ties to our families and communities, no matter how far we roam," Anthea M. Hartig, the museum's Elizabeth MacMillan director, said in a news release.
"For the museum, they continue to inspire awe and captivate audiences of all ages. We are so grateful to American Cruise Lines for sharing our educational goals and making the display of these magical shoes possible for generations to come," Hartig said.
The ruby slippers were donated to the museum anonymously in 1979. Since then, they have been displayed in multiple places throughout the museum and underwent a thorough conservation treatment in 2017.
The world-famous slippers are currently on display in the museum's newly renovated 3rd floor West Wing and they remain one of the most asked-about artifacts at the Smithsonian.
Sixteen-year-old Judy Garland wore the size-five sequined shoes as Dorothy Gale in the 1939 film classic "The Wizard of Oz." In the original book by L. Frank Baum, Dorothy's magic slippers are silver. For the Technicolor movie, they were changed to ruby red to show up more vividly against the yellow-brick road.
Photos courtesy of Smithsonian National Museum of American History
---
Ed. Note: Please contact us for more information and to book a cruise! Crown Cruise Vacations | Cruise Getaways You Can Afford!