'Ultimate Amusement Ride' Aboard MSC Seascape in December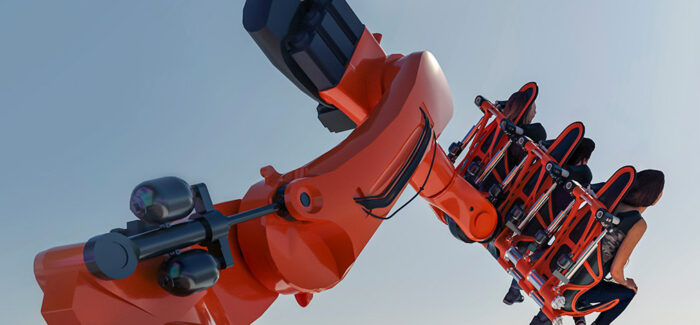 Are you a daredevil on amusement rides? Or would you prefer something a bit more sedate? On the ultimate amusement ride on board MSC Seascape, passengers can choose their own high-tech fun.
A thrilling amusement ride coming to the seas for the first time, ROBOTRON combines the breath-taking rush of a rollercoaster with personalized music and lighting. The first robotic arm ride at sea and the first to allow riders to customize their experience, ROBOTRON will be one of the amazing newbies aboard MSC Seascape, scheduled to be launched on Dec. 7, 2022.
"We are excited to give our guests more access to cutting-edge experiences, which is why MSC Cruises is committed to bringing our newest ships to the U.S.," Rubén Rodríguez, president of MSC Cruises USA, said in a news release.
"We're the first cruise line to offer something like ROBOTRON at sea, and we can't wait for thrill seekers to discover the ride of their life surrounded by the beauty of the Caribbean," he said.
ROBOTRON is a state-of-the-art robotic arm with an attached gondola that seats three guests to fly them nearly 175 feet above the sea. The adrenaline-pumping experience gives riders an unobstructed 360-degree view of the horizon as they hang over the edge of the deck, flip upside down and move in all directions.
ROBOTRON riders will be able to select their desired thrill level – a first among robotic arm rides – ranging from family friendly to high intensity. They can also set the mood with colored lights, music preferences and more.
Coupled with the adjacent video screen, ROBOTRON acts as a moving DJ booth, with the rhythm and bass visualized as colorful patterns and pulses of light while the robotic arm is bouncing and twisting in tempo.
"Our new virtual reality motorcycles and flight simulator – plus fan favorites like the MSC Formula Racer and XD Cinema – will also feature truly immersive experiences, providing the most exhilarating line-up of rides we've ever offered," Rodríguez said.
Other high-tech entertainment features on board MSC Seascape include:
– VR 360-defreee Flight Simulator: This ride offers the ultimate virtual motion experience, complete with VR headsets and impressive special effects. Guests can choose from various worlds to dive into a thrill-ride like no other.
– VR Motorcycles: Guests with a need for speed will love MSC Seascape's new VR motorcycles, where players will be transported to the racetrack with wind and water effects to complete the experience.
– MSC Formula Racer: Perfect for car racing enthusiasts ready to get their high-speed fix, this activity puts guests in the driver's seat for a thrilling racing simulation game with realistic effects that will get their heart rates going.
– Immersive XD Cinema: The minute guests put on their 3D glasses, they dive into alternate worlds where players will battle it out against zombies, skeletons and more. Only one player can be crowned the victor go guests will need to prove their sharp-shooting skills against each other for ultimate bragging rights.
MSC Seascape will be launched in New York at a glittering naming ceremony on Dec. 7, 2022, and then go into service from PortMiami, offering year-round Caribbean cruises with two different itineraries.
Photos courtesy of MSC Cruises
---
Ed. Note: Please contact us for more information and to book a cruise Crown Cruise Vacations | Cruise Getaways You Can Afford!
Since 2008, Crown Cruise Vacations has had a singular focus: Provide excellent value and excellent service on Cruises, Tours and all forms of Vacation Travel. Based in Princeton, New Jersey, and a proud member of Ensemble Travel Group, we have been able to offer the benefits of working with the largest agencies while maintaining a family atmosphere. We've won a number of different awards including the 2011 World Travel Award for Leading North American Cruise Agent,
and 2018 Partner of the Year for Royal Caribbean . We use our agency connections, relationships and influence
to provide you and your family the best values and offers in the travel industry
led by travel counselors with hundreds of years of combined travel experience.
Contact Us – Open Seven Days A Week: 9a-8p Mon-Fri, 9a-5p Sat-Sun
Call us toll free: 877-283-1114, direct-dial Locally: 609-945-9801
Address: 120 Village Boulevard, Princeton, NJ 08540
Email us: support@crowncruisevacations.com