Sipping 'mocktails' as part of Regal Princess beverage package - Crown Cruise Vacations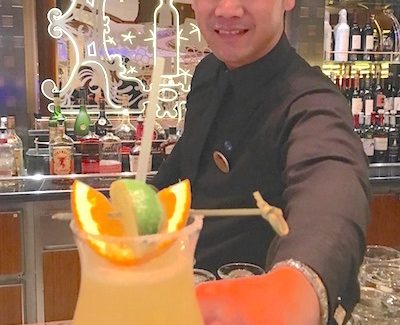 A pet peeve of mine is cruise ships that charge inflated fees for soft drinks. My caffeine of choice is cola, Pepsi preferably, which many cruise ships don't carry. It irks me to pay almost $3 for a small can of Coke or to buy a cruise-long soft drink package at a hefty charge.
But the beverage deal on the Regal Princess isn't bad. In fact, I like the extras that come with the Unlimited Soda & More Package. The "more" seem to make it worthwhile.
When passengers board many big cruise ships, they will notice tables set up at visible spots selling beverage deals for the length of the cruise. If you are much of a drinker, the unlimited booze deals might be worth it but not for me.
On the Regal Princess, for example, passengers can buy a new All-Inclusive Beverage Package. For a fee of $49 per person per day, plus a 15 percent gratuity, a passenger can enjoy any alcoholic-beverage costing up to $10 on the bar menu, including cocktails, wine and beer. The deal also includes bottled water, tea, sodas and specialty coffees.
If you plan to enjoy several cocktails, beer or wine during the day and evening, this would be a good deal. Plus, that bottled water is a nice addition. It's always good to take water when going ashore and to keep it around to remind yourself to stay hydrated on a cruise.
When you buy an All-Inclusive Beverage Package, you get a stamp pasted on your cruise card. All you have to do when ordering a drink is show your card for no charge. I've noticed many passengers choosing this deal.
What I picked was the Unlimited Soda & More Package for $7 per day plus 15 percent gratuity which totaled $56.35 for my weeklong cruise. So, I drink a Coke for breakfast and one for lunch. How can that be a worthwhile package? On most ships, it isn't.
However, this Unlimited Soda & More Package really does offer more for your buck. The package includes fountain sodas, mocktails, fruit smoothies and hot chocolate, plus a large insulated plastic Princess glass with a sturdy lid and straw. The glass was handy to keep ice water in my room.
It's the mocktails that were a surprise and I ordered even more of those than Coke on this cruise. Maybe they sound yucky – a cocktail without liquor? – but they are quite good.
My first night, I found my favorite early evening spot on the second deck in the Piazza, listened to the band and ordered a mocktail mojito. Very minty and refreshing. Later I tried a mocktail margarita. Also delicious. They are surprisingly tasty and they look pretty. The bartender said he could turn any cocktail into a mocktail.
I thought the bartender might just dump a few fruit juices and some kind of seltzer in a plastic glass for those mocktails. They don't. What you get looks like the real thing with the little garnishes and tastes just as good to me.
I don't know if anyone else was drinking mocktails on the cruise. But, then again, I don't think anyone knew that the cold drink in front of me was all fluff and no alcohol. Fun drinks I have never had before.
The motto of Princess Cruises is "Come Back New." The pleasure of mocktails is something new that will be coming back home with me.
Story and photo by Jackie Sheckler Finch