Learn how to be a MasterChef on Holland America cruise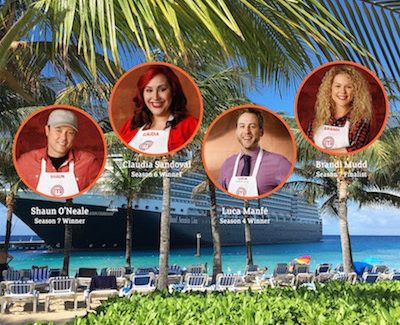 Learn how to cook like a MasterChef on a seven-day Culinary Adventure cruise aboard the ms Eurodam departing from Fort Lauderdale on Nov. 12. This is the third MasterChef cruise for the popular Holland America program.
Foodies and fans of America's most watched cooking competition series get the rare opportunity to experience MasterChef LIVE with a new line-up of entertainment and activities featuring MasterChef All Stars.
The cruise will include MasterChef menus and hands-on culinary demos from some of the best Home Cooks in the nation. The All Stars cooks will share what led them to receive an apron to cook in the legendary MasterChef Kitchen.
The All Stars were mentored in-show by some of the most esteemed chefs in the world and program participants can enjoy the results. Cruisers also will get to taste the food they've seen created by the MasterChef All Stars.
Some passengers will have a chance to be part of a lucky group of people chosen to participate in a Mystery Box Challenge or a Pressure Test. Participants will get to experience the pace, thrills and countdown of the clock similar to what the All Stars had to experience in the show.
The cruise includes ports of call in Grand Turk, Turks & Caicos; San Juan, Puerto Rico; Philipsburg, St. Maarten; and Half Moon Cay, Bahamas.
Photo courtesy of Holland America