Booze and Books on the Breeze - Crown Cruise Vacations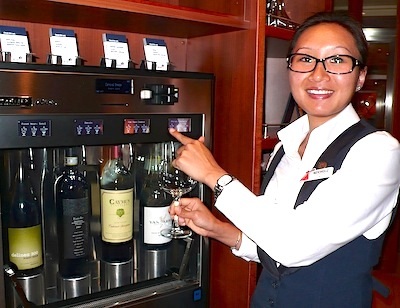 The library is a popular spot on the Carnival Breeze. Not only for the books, magazines and games, but also for the card-key operated wine dispensers and literary cocktails.
Maybe sip a Hemingway's Papa Doble while enjoying a good novel?
Surprised? The Carnival Breeze does indeed have a bar in the library, along with a first for Carnival Cruise Lines – card-key operated wine dispensers. Makes sense to me.
"Instead of buying a whole bottle of wine that you don't know and aren't sure you like, you can come in here and sample it," says bartender Neichulu from India. "That way you aren't spending a lot of money to buy something that you might not like."
Great idea. Neichulu showed me how I could hold a wine glass under one of the wine dispensers, insert my cabin key and get a taste for $3.75, $7.50 or $11 for two-, four- and six-ounce pours.
Some of the red and white choices available today are a Batasiolo Barolo from Italy, Sokol Blosser Pinot Noir from Oregon, Yangarra Shiraz from Australia, and a Caymus Cabernet Sauvignon from California.
"People really like getting to taste the wine like this," Neichulu says. "You can find what you like and buy a bottle to take it to the dining room. "
Each bottle of wine is stored at the perfect temperature guaranteeing freshness. The wine dispensers have handy little cards above the dispensers – a "library card" to take with you so you can remember which wine you liked and which you didn't.
The Library Bar also offers specialty cocktails such as the Hemingway's Papa Doble  – Bacardi rum, grapefruit juice, maraschino liqueur and fresh lime juice; the Scarlet Letter – Stoli Citrus Vodka, pomegranate liqueur, agave nectar and fresh lime juice; the Black Pearl – Hennessey Black Cognac, blackberry brandy and lemonade; and the Sunset Serenity – Bacardi Limon Rum, Malibu, orange and pineapple juices, and grenadine.
Since debuting on the Carnival Breeze, the Library Bar has proven so popular that the new Carnival Sunshine will have a similar venue.
By Jackie Sheckler Finch
Start planning your next Carnival Cruise today. Just click here to see all of your options!