Riverboat Biscuits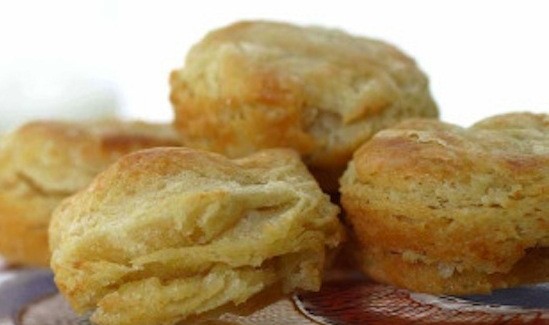 Breakfast is my favorite meal of the day. And the delicious breakfasts served on the American Queen make it easier to roll out of a comfy bed each morning on the river.
To create memorable menus for the popular riverboat, the smart new owners chose chef  Regina Charboneau to be the steamboat's culinary director. A native of historical Natchez, Regina draws inspiration from America' heartland and her own Mississippi River roots.
"My vision is to re-create many American classics using the best seasonal ingredients and what our location on the river has to offer," Regina has said. "I also want to create new dishes that become synonymous with the American Queen."
Judging from our cruise, the American Queen chef has met her goal. Her melt-in-your-mouth butter biscuits, combined with sausage gravy are a great memory. Watching the river roll outside our dining room window while enjoying Regina's culinary creations was a real treat.
The American Queen gift shop carries Regina's cookbook. Some day, I plan to try and make her butter biscuits. But I don't know how to recreate that beautiful river scene that helps make any meal aboard theAmerican Queen so special.
REGINA'S BUTTER BISCUITS
4 cups flour
1/4 cup baking powder
1/4 cup sugar
3/4 pound margarine (salted)
1/4 pound butter (salted)
1 3/4 cups buttermilk
In a metal mixing bowl, add flour, baking powder and sugar. Blend well.
Cut margarine and butter into small cubes (1/2 inch).
Mix with dry ingredients and coat the margarine and butter well with the flour mixture.
Add buttermilk and mix into a dough. Do not over mix, there should be visible pieces of butter and margarine, that is what makes these biscuits flaky.
Flour a workspace and roll out 3/4- inch thick, fold and roll again. Repeat this process two to three times until you have smooth dough. The dough will be layered with butter and margarine. Cut into rounds, whichever size you prefer. Regina prefers 2 inches.
Bake at 375 degrees for 20 minutes or until golden brown. You may bake in muffin tins to brown evenly. Makes about two dozen large or three dozen small biscuits.
Note: Regina is very specific about ingredients and brands. She prefers Calumet Baking Powder, Land O'Lakes salted butter and salted margarine. She also uses regular buttermilk, not low fat.
"They don't taste quite like my biscuits if you change the ingredients," she says.
By Jackie Sheckler Finch