Brightline Offers Easy Rail Ride from Miami to West Palm Beach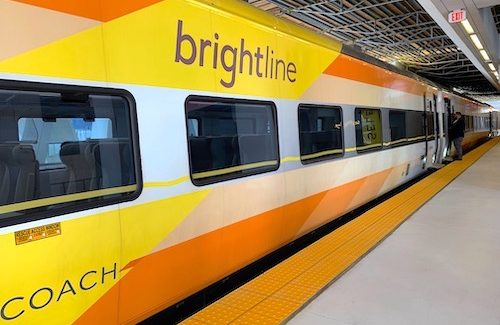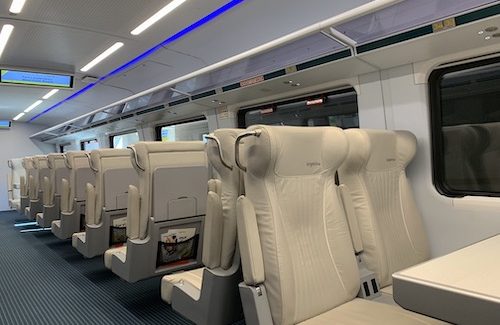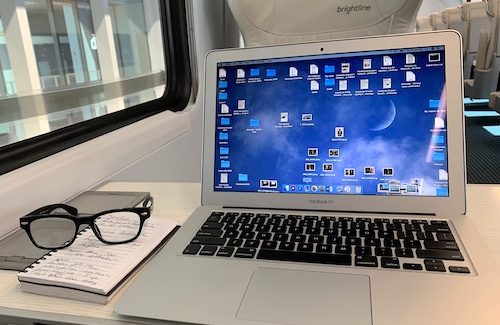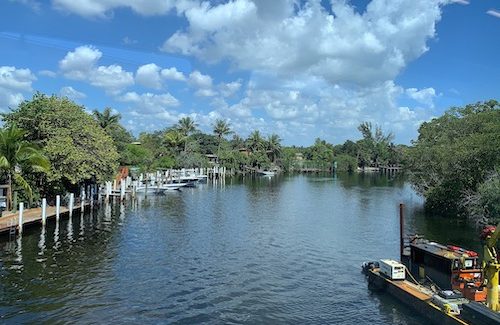 So I was in Miami for a conference and had a cruise departing from West Palm Beach. How to easily get from one Florida city to the other?
Didn't have a car. Didn't want to rent one. Also didn't want to fly.
The answer was an economical and fast form of transportation called Brightline. Many people may already know about it but I didn't.
Brightline is a rail service with three South Florida stations – Miami, Fort Lauderdale and West Palm Beach. It takes a half hour to get from the Miami station to the Fort Lauderdale station and another half hour to travel on to the West Palm Beach terminal. The train chugs along at almost 80 miles per hour through the countryside.
I've ridden on trains before but never one as comfy and smooth moving as my one-hour journey from Miami to West Palm Beach.
Once aboard, I set up my laptop on the table in front of me. Thought I would get some work done. Instead, I spent the hour watching the diverse landscape pass outside my window.
What a great way to travel.
Rail Service Began in 2018
Public Brightline rail service between West Palm Beach and Fort Lauderdale began Jan. 13, 2018. Service between West Palm Beach and Miami started on May 19, 2018.
In November 2018, Brightline announced a partnership with the Virgin Group for a phased approach to rebranding to Virgin Trains USA in 2019. That's why I saw the big model of a Virgin plane in the Brightline lounge.
The plan is for Virgin Trains USA to offer even more service to Orlando and Tampa and also between Las Vegas and Southern California.
The Miami Brightline terminal is only a 10-minute drive from Port Miami, the busiest cruise port in the world.
The new terminal is sparkling clean with friendly helpful personnel. When I walked in with suitcase in tow, a lady at the ticket counter walked over and began explaining the simple process.
Because I was unfamiliar with the train and terminal, I had arrived more than two hours early. I'm accustomed to cooling my heels at airports so thought I would just get some writing done. Instead, the ticket counter lady said she would put me on the next train trip that would be leaving in about a half hour if I wanted.
And she did it for free. Would an airline have given me an earlier departure without my asking and without wanting a costly fee?
She also checked my suitcase for free. I could have carried it on the train, she said, but it would be easier to check it behind the ticket counter and pick it up at baggage claim in West Palm Beach.
She was right. The backpack with my computer was all I carried onto the train.
Waiting in the Select Lounge
With my $42 Select ticket, I had access to the Select Lounge where snacks and drinks are complimentary while I waited for my train departure. The snacks in the lounge differ depending on the time of day. Since I was there early in the morning, it was mostly fruit, pastries and muffins.
Complimentary drinks are milk, juice, coffee, sodas and alcoholic beverages. The terminal has free WiFi throughout and large screen TVs.
When my train arrived, an announcer told us when to board and find our reserved seats. Again, very clean and comfortable.
Passing by the train restroom, a fellow passenger noted how large and immaculate it looked.
After the train got started, a train agent passed through our compartment with complimentary drinks and snacks. A half hour later when passengers to Fort Lauderdale got off and new ones got on, the agent went through with more drinks and snacks.
Those snacks are much more than a bag of peanuts or pretzels. The lady across from me got a sweet roll, a cheese croissant, bag of chips and some fruit, plus coffee and bottle of sparkling water. I got a Pepsi and a Clif Bar.
Within an hour, I had arrived in West Palm Beach, took an Uber for $6 and easily boarded my cruise ship.
If you ever have reason to get from Miami to West Palm Beach, I would definitely recommend Brightline or the Virgin Trains USA (if the name transfer is completed by then).
Instead of being a transportation hassle, the train ride is pleasant and relaxing. That is a treat to find in today's world.
Photos and story by Jackie Sheckler Finch