Washington & Oregon Wineries Saluted On S.S. Legacy Cruise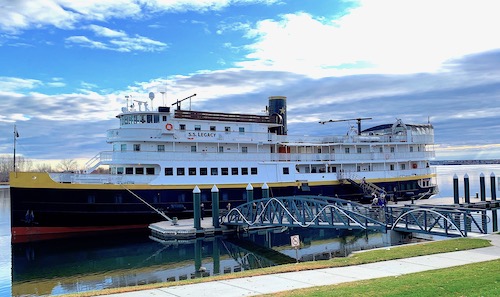 On a crisp autumn day, the S.S. Legacy eased from the shore in Portland, Oregon, and headed along the Columbia River. Passengers lined the decks watching the start of a week-long wine cruise featuring some of the best wineries in Washington State and Oregon.
"You are in wine country now," said shipboard sommelier Courtney Smith. "Washington State has about 1,000 wineries and Oregon has 725. Only one state has more wineries than Washington. That is California."
The round-tip cruise from Portland on the Columbia and Snake rivers featured stops in Astoria, the Columbia River Gorge National Scenic Area, Walla Walla and Red Mountain in Washington State. In Oregon, stops included the Dalles and Willamette Valley.
Itineraries vary so check the UnCruise Adventures website for updated stops. New dates for Rivers of Adventure & Wine will be August through October 2021. The guest sommelier and guest speaker also may be different for some cruises but I'm writing about the cruise I took before the pandemic hit.
Each day on my cruise, passengers boarded tour buses to visit one or two wineries and craft breweries. Each evening, passengers were treated to wine tastings, presentations about local wineries, dinner and dessert pairings, regional history and much more from sommelier Smith and guest speaker Adam Sawyer.
A food and drink specialist, Sawyer is the author of six books and has written numerous articles for newspapers, magazines and websites. "This is an excellent area for growing grapes and making wine," Sawyer said. "People are often surprised to learn that and to learn how quickly the local wine industry has grown. But it is true."
Wine Cruises for Connoisseurs & Novices
The wine cruises are for folks who know their wine as well as for those who want to learn more. "My friend on the cruise is a wine connoisseur. I just want to find out what makes the wine in Washington and Oregon so special," said Marie Thompson of Michigan, adding with a laugh, "Plus I like to drink wine and cruise."
On my cruise, wineries on the itinerary included Dunham Cellars, Terra Blanca Estate Winery & Vineyard, Raptor Ridge, Archer Vineyards, Mt. Hood Winery, and Walter Clore Wine & Culinary Center. Craft breweries were Buoy Beer and Ferment Brewing Company.
Pacific Northwest wine country is beautiful – ranging from the dry, golden hillsides of eastern Washington to the lush, green slopes of Oregon. "It's really amazing how many wineries exist in Washington and Oregon," Smith said. "The great thing is that the winemakers share. They don't keep trade secrets. They open doors for each other because they really want the wine industry to grow here."
And one of the best possible ways to see and enjoy this wine wealth is a cruise aboard the S.S. Legacy. Newly refurbished in 2013, the Legacy was built in 1984 as a replica of a 1900's coastal steamer. The ambiance aboard the 88-guest Legacy emulates old-world charm with period décor and carved wooden cabinetry. The ship has twin hot tubs, fitness equipment and yoga classes. The four-deck ship has elevator access to three of the public decks.
The Victorian-style Grand Salon features a dance floor, small library, full bar and plenty of comfy chairs. That is where cocktail hour and evening programs take place. Cocktail hour on this cruise featured wine (or beer and cocktails) plus tasty hors d'oeuvres including oysters, shrimp cocktail, steamed mussels, baked brie, cheese, fresh-baked cookies and other treats.
No need to dread a big bar bill at the end of an S.S. Legacy cruise. All alcoholic and non-alcoholic drinks are included in the cruise fee, as are tastings at wineries and breweries each day.
The ship's Klondike Dining Room has large windows down both sides so passengers can savor scrumptious meals, accompanied by complementary wine, while watching the ever-changing river scenes roll by. This is a casual cruise, no formal wear for dinner.
For the cuisine, Chef James Cooper supports local economies by buying salmon, fish and other locally-produced foods and products whenever possible. For diners who can't make up their mind between two great menu choices, a popular choice is "half-and-half" – a split portion of two different entries.
History of Pacific Northwest Wine Production
At the ship's stop at the Walter Clore Wine & Culinary Center in Prosser, Washington, the history of the state's wine production was shared by wine education coordinator William Pollard Jr.  It all began in 1825 when the Hudson's Bay Company planted Washington state's first grapes at Fort Vancouver.
Washington's Columbia Valley, which sits at the same latitude as the Bordeaux region of France, enjoys low rainfall of just 6 to 8 inches a year, sandy soils and almost two more hours of sunlight than California during the summer which is great for local vintners. "You know talent when you taste it," Pollard said of local winemakers. "You can taste their talent in the glass."
By the 20th century, private winemakers were tapping runoff from the melting snowcaps from the Cascade Mountains for large-scale irrigation. Surpassingly, the Prohibition era of the 1920s and 1930s didn't really slow local wine production. It increased home winemaking.
After Prohibition ended in 1933, the National Wine Company opened in Washington. It is the precursor to the state's oldest existing winery today – Chateau Ste. Michelle.
In 1937, Dr. Walter Clore began viticulture and enology research in Washington state. The State Legislature honored him as "The Father of Washington Wine." The $6 million Clore Center opened in 2014 and offers classes on wine, cuisine and other subjects.
"Just don't let anyone tell you the wine you should drink," Pollard said during a wine tasting.
"We are all wired differently so there is no right, no wrong," Pollard said. "The wine you should drink is the wine you like."
Photos by Jackie Sheckler Finch; cover photo: 
The S.S. Legacy offers wine cruises to Washington and Oregon wineries.