Snow White At 75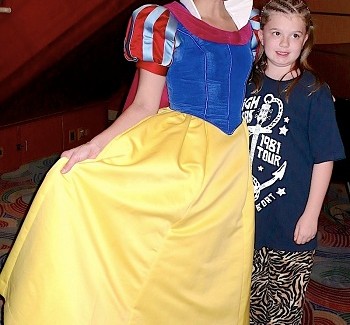 She doesn't look a day older. But raven-haired Snow White is now 75.
The first Disney princess, Snow White has been charming movie goers since Snow White and the Seven Dwarfs was first released at Hollywood's Carthay Circle Theater on Dec. 21, 1937.
As the first full-length animated feature film, Walt Disney's groundbreaking masterpiece drew worldwide acclaim and scorn. Dismissed by some critics as "Disney's folly," the cartoon became one of the top grossing films of all time.
An official member of the Disney Princess line and one of the few fictional characters with a star on the Hollywood Walk of Fame, Snow White is a popular character on the Disney Cruise Line and at Disneyland and Disney World. Children (and adults) wait in long lines to take a photo with Snow White or to get her autograph.
"I love Snow White," says Katherine Miller, 7, wearing a Snow White dress as she poses for a photo with her heroine on the Disney Magic cruise ship. "She lived happily ever after."
In the film, Snow White lives with her wicked stepmother who forces the young girl to be a drudge fearing that one day Snow White's beauty might become greater than her own.
Sure enough, the evil stepmother's magic mirror confirms that Snow White is "the fairest of them all." Most children can finish telling the tale including how the seven dwarfs help the hunted Snow White, how the vain stepmother disguises herself as an old hag and temps Snow White into eating a poison apple which causes the beautiful girl to fall into a "Sleeping Death."
How is the lovely maiden rescued? "The prince finds her and kisses her," Katherine says. "That wakes Snow White up and they go live in the prince's castle."
Walt Disney was very careful about choosing the story for his first animated feature. He picked the fairy tale "Snow White" because a live-action silent version of the story was the first film he had seen as a child. He had never forgotten it.
To make it an even bigger gamble, Disney decided to turn the lengthy cartoon into a musical.  Critics thought Disney must be loony – who would want to watch a cartoon for more than a few minutes? And who would want to hear cartoon characters sing?
The success of Snow White, of course, paved the path for Disney to follow with many other full-length musicals. The film earned a special Oscar for Walt Disney – a full-sized statuette and seven small ones (for the dwarfs). Child star Shirley Temple presented the Oscars to Disney for having produced "a significant screen innovation which has charmed millions and pioneered a great new entertainment field for the motion picture cartoon."
As Walt Disney himself said of the film, "It's no more a cartoon than a painting by Whistler is a cartoon."
By Jackie Sheckler Finch
Crown Cruise Vacations is an Authorized Disney Vacation Planner and we can't wait to get you on your next trip to a Disney vacation. Call us for more details, or visit our all-Disney site, World of Mickey!