Shore Excursion: Spanish city of Toledo and legend of the pins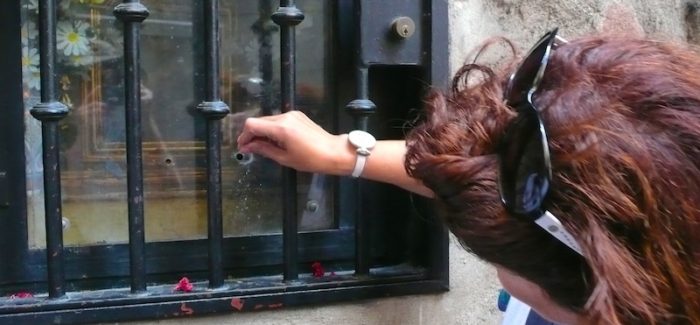 By Jackie Sheckler Finch
Once upon a time, two lovers were separated by war. To pray for her soldier's safe return, the young lady would visit an image of the Virgin Mary and pray every night.
Afraid that she might fall asleep during her long vigil, the lady asked her maid to stick her with a pin if she faltered in her prayers. Then the lady would present the pin to the Virgin Mary as proof of her dedication and sacrifice.
The story had a happy ending. The soldier survived and the two lovers were reunited. In honor of the blessing that took place at this site, a narrow street in the ancient Spanish city of Toledo is now named Calle de los Alfileritos (Little Pins Street).
"Today, the legend is that if you leave a pin in the little opening here at the window with the image of the Virgin Mary and ask for a boyfriend, your prayer may be answered," said guide Almudena Cencerrado, pushing a pin through the tiny hole.
It was easy to see that many pin wishes already resided within the spot. Safety pines, bobby pins, straight pins, hat pins and long needles were piled inside the frame. Don't know whether the pin prayer works or not. Although Cencerrado offered me a pin, I already found the man of my dreams a couple of decades ago.
Known as "The City of Three Cultures," Toledo is filled with legends and lore from the diverse people who have lived here.
"We are a historic symbol of peace, tolerance and cooperation between civilizations," said Javier Diaz Herranz, tourism official. "Three cultures lived here and flourished – the Christians, the Jews and the Muslims."
Located on a mountain top, Toledo is surrounded on three sides by the Tajo River. Declared a World Heritage Site in 1986, Toledo is a university town filled with historic sites, churches and streets so narrow that even compact automobiles can scarcely navigate them. It is a beautiful city for walking.
"Every year, more and more buildings are restored and opened to the public," Herranz said. "Toledo was once the capital of Spain, known as the Imperial City, a city that ruled the world in that time."
Photo by Jackie Sheckler Finch