Shore Excursion: How 'Holy Toledo' got its nickname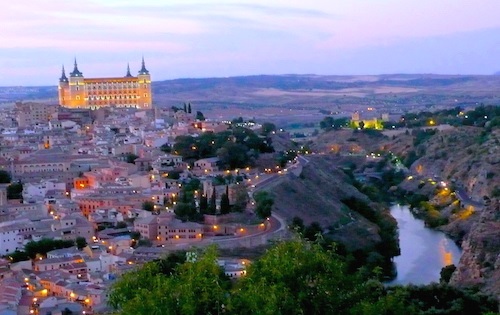 By Jackie Sheckler Finch
TOLEDO, Spain – About the closest my Aunt Minnie ever came to cursing was to mutter "Holy Toledo" whenever she had reached her "wit's end," another favorite Aunt Minnie saying.
I never knew what either of those meant when I was a kid. It took a trip to Toledo, Spain, to learn the origin of Aunt Minnie's favorite exclamation.
Walking through the winding cobblestone streets, guide Almudena Cencerrado explained the expression of "Holy Toledo." Suddenly, those words made sense.
When the capital of Spain moved from Toledo to Madrid, other wealthy families followed and donated their homes and buildings to the church for tax-exempt property.  With so many church buildings, Toledo came to be known as "Holy Toledo."
Even though I grew up in Ohio, I didn't know about the connection between the Toledo in Ohio and the Toledo in Spain. I also learned that on my Spain visit.
"We are sister cities," Cencerrado said, pointing to a tile sign on a building that pays tribute to Toledo, Ohio.
That also explains how the newspaper in Toledo, Ohio, got its name – the Toledo Blade.
"Toledo is well known for its swords and knives," Cencerrado said. "The 'Lord of the Rings' sword was made in Toledo."
So, when the newspaper in Toledo, Ohio, was first published on Dec. 19, 1835, it was named The Toledo Blade as a tribute to the heritage of its Spanish sister. Also, at the time the newspaper was founded, the Ohio-Michigan War was being waged for the control of Lucas County, Ohio.
It was believed, Cencerrado said, that The Toledo Blade would "always leap from its scabbard whenever the rights of individuals, or the community, shall be infringed."
Photo by Jackie Sheckler Finch