Seeing menu items helps passengers make dining choices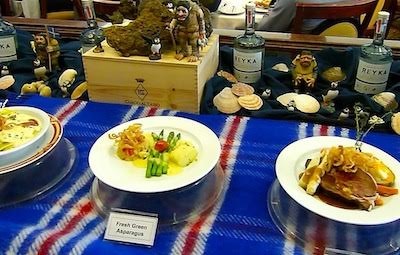 Ever peruse a cruise ship menu and have a difficult time choosing what to order? Do you look around at other diners to see what they may be eating?
Iceland ProCruises has a helpful way to make choosing a bit easier on its cruise ship, the Ocean Diamond. Several of the evening's menu offerings are placed on a decorative front table as passengers enter the ship's dining room. Seeing the beautifully presented dishes can sometimes make or break a menu choice.
Often in a restaurant, I have looked at a companion's dinner and thought it looked better than mine. But by then, of course, it was too late. The Ocean Diamond lets diners see what some of the specialties on the night's menu are before they place an order.
The first Icelandic-owned expedition cruise line set sail in June 2015. The new company offers round-trip cruises on the Ocean Diamond from Reykjavik during Iceland's summer months of June through August.
Story and photo by Jackie Sheckler Finch