Patsy Cline Museum Showcases Recently Discovered Personal Items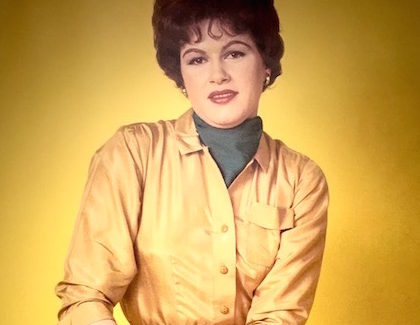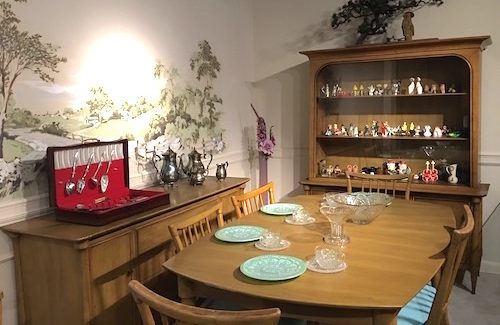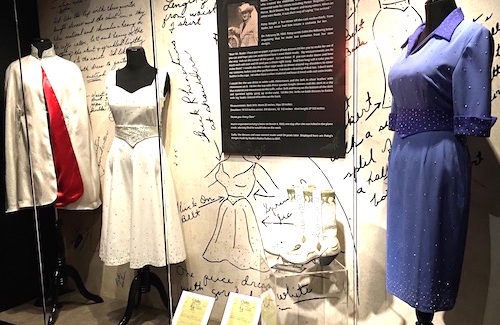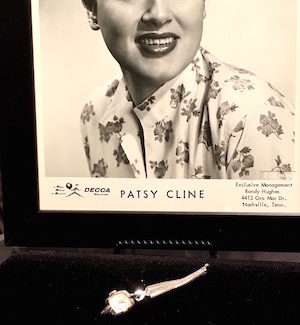 Patsy Cline saved the memories of her life. That memorabilia, after being locked away for more than half a century, is now being seen at the Patsy Cline Museum in Nashville.
"Patsy Cline was very sentimental," said museum founder Bill Miller. "I think people will be really surprised at what we have in the museum."
A 25-cent writing tablet filled with "biography" entries handwritten in red ink by Cline notes that as a youngster she "started tap dancing and won a contest at age 5." A well-worn membership card in the Jimmy Dean Fan Club bears the signature of a young Patsy.
Sketches the budding singer created of fringed cowgirl outfits were sewn by her mother on an old-fashioned Singer machine. A carefully arranged photo album commemorates her wedding to Charlie Dick. And the front door key to her "dream home" still dangles from a tattered string.
"The family didn't even know some of these things existed," Miller said. "Charlie Dick had saved them all those years."
After successfully opening the Johnny Cash Museum in downtown Nashville in 2013, Miller thought it was long past time that the legendary Patsy Cline also was honored with a well-organized museum. But where would he find enough of Cline's personal possessions for such a facility, Miller worried.
"I was terror stricken because I didn't know what we could put in a museum for Patsy Cline," he said. "I didn't want it to be just a bunch of old pictures and newspaper clippings. I wanted people to see what she was really like. But Patsy Cline's career was only about six years in its entirety. Finding things to put in her museum could turn out to be an impossible task."
Then the "impossible" happened.
After the death of Patsy Cline's husband in 2015, the family was surprised to find a treasure trove of Cline's possessions that her husband had lovingly preserved.
"It's really a miracle," Miller said. "When Patsy's daughter Julie called me, she said, 'You have to get over here. You won't believe what we found.'"
Museum features rare memorabilia
Located above the Johnny Cash Museum, the Patsy Cline Museum is arranged in chronological order. Exhibits trace her life from her birth on Sept. 8, 1932, in Winchester, Virginia, to her death in a plane crash near Camden, Tennessee, on March 5, 1963. She was 30 years old.
Artifacts are displayed from every stage of Cline's life, including a porch seat from her childhood home and a booth from Gaunt's Drug Store where she used to work. After her father deserted them, Cline dropped out of school at 15 to help support the family.
"Gaunt's Drug Store was right across the street from a radio station so Patsy could see the performers coming and going. That's what she wanted to do," Miller said.
She sang in juke joints, amateur musicals and talent shows. It was at a local club where Cline met Charlie Dick. The two married in 1957 and had two children, Julie, born in 1958, and Randy, born in 1961. Dick died Nov. 8, 2015, at age 81 and was buried next to Cline in Winchester, Virginia.
Some of the surprising exhibits are the furniture, ashtrays and still-running Norge refrigerator that the couple had in their Nashville home. The recreated rec room includes a floor model black-and-white television showing classic Cline performances. A red leatherette bar is embossed with "Patsy & Charlie" on the front.
The couple's late-1950s style dining room includes Cline's colorful salt and pepper shaker collection, plus the silverware and dishes the family used.
Cline loved costume jewelry as shown in her black lacquer jewelry box filled with baubles. Also displayed is her engraved silver wedding band from her marriage to Dick, plus an ID bracelet that was a gift from Cline to her husband. It opens to show pictures of Cline.
A film documents Cline's career and is hosted by actress Beverly D'Angelo, who was nominated for a Golden Globe for her portrayal of Patsy Cline in the 1980 film Coal Miner's Daughter. The 1985 movie about Cline's life, Sweet Dreams, also has an exhibit. Actress Jessica Lange received an Oscar nomination for her role as Cline.
Visitors can listen to Cline's hit songs
At a listening station, visitors can put on headphones and listen to Cline's hit songs, including the Willie Nelson-penned "Crazy," the No. 1 jukebox hit of all time.
Among the most poignant items are those recovered at the site of the plane crash that took Cline's life, as well as the lives of singers Hawkshaw Hawkins and Cowboy Copas and Cline's manager Randy Hughes who was piloting the plane. The group was returning from a benefit show in Kansas City.
A floral handkerchief used by Cline's mother Hilda Hensley at the funeral is displayed as is the silver Elgin wrist watch that Cline was wearing when she died. A telegram from Colonel Tom Parker expresses condolences from him and Elvis Presley.
The final exhibit showcases outfits that Cline had designed and wanted famed tailor Nudie Cohn to create for her. "When an artist wore Nudie, it was their way of saying, 'I've arrived,'" the exhibit notes.
Cline wrote to Cohn on Feb. 28, 1963, asking him to create the designs and included her instructions and measurements. Nudie responded to Cline that he would take on the work. But his letter arrived too late. Cline was dead.
"We didn't want to leave people with the somber exhibit of Patsy's death so we had Nudie's granddaughter make the outfits from Patsy's designs," Miller said.
"When the family found all of Patsy's things that Charlie Dick had saved, it makes me believe that this museum was meant to be. Patsy Cline was an icon, the best loved female singer of all time."
Story and Photos by Jackie Sheckler Finch