Hot Tamales, Blues Music, Movie Sites Draw Visitors to Greenwood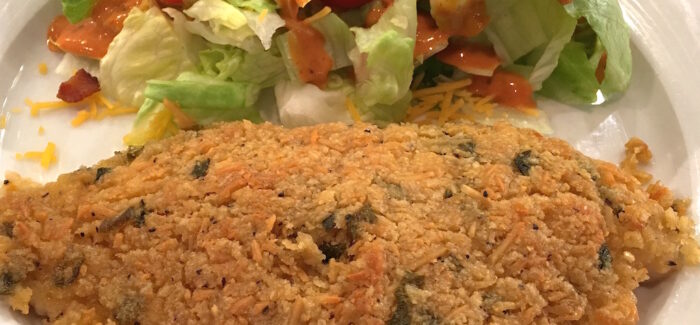 With a smooth swish, chef Loren Leflore spreads mile-high whipped egg whites on coconut cream pie. Then she invites a class member to use a culinary torch to brown the meringue. "You're doing great," she encourages the tentative torcher.
Next, Loren demonstrates how to make parmesan-crusted catfish and Delta hot tamales. All the while, we are snacking on fried dill pickle slices while awaiting the meal our instructor is preparing in the famous Viking Cooking School in Greenwood, Mississippi. Taste buds are delighted to be educated here.
Loren widened my food world when she talked about Delta hot tamales. I had no idea the hand-held meals were a southern delicacy, although famed bluesman Robert Johnson once invoked them in his song "They're Red Hot."
At Viking, we learned how to roll, stuff and steam the tamales. "They are such a bi
g part of the Delta," Loren says. "There are many variations and family recipes for them."
Once "The Cotton Capital of the World," Greenwood has become a popular dining mecca after undergoing a major renaissance. It now has upscale shops, galleries, museums, boutique hotel, top-notch dining experiences and welcoming hospitality, says Danielle Morgan, executive director of the Mississippi Tourism Association.
What surprises many first-time visitors, Danielle says is, "the warmth of our people whose hearts are as wide open as the horizon…You don't find that everywhere. That's why we say Greenwood has a Delta spirit and a Southern soul t
hat makes us unique."
Viking Comes to Greenwood
The impetus for much of that modern-day culinary popularity goes to Fred Carl, founder of the Viking Range Corp. In the early 1980s, Carl decided to locate Viking in his hometown along the banks of the Yazoo River. The heart-warming story goes that Carl founded Viking in the 1980s to fulfill his wife's quest for an oven that was no longer being made.
Along with the success of the Viking company in Greenwood came the four-diamond Alluvian Hotel and the Viking Cooking School. Opened in 2003 in the shell of abandoned 1917 Hotel Irving, the 45-room boutique Alluvian gets its name from the local rich alluvial soil. Tennessee Williams once called folks from the Delta "Alluvians" because they live in the alluvial flood plain.
Renovated by Viking to preserve its historic ambiance, the hotel's restaurant Giardina's carries on dining traditions originally founded by a Sicilian family in 1936. Savor such classic Southern dishes as Baked Oysters Giardina with Benton's Bacon along with traditional Italian favorites and, of course, hot tamales. Giardina's offers 14 private booths, plus a large dining room that opens onto a beautiful courtyard.
To work off some of that hard-to-resist Greenwood food, take a stroll around town with a population of about 14,000. Once named one of America's 10 most beautiful streets, Grand Boulevard is lined by almost 300 majestic oak trees.
The award-winning 2011 movie "The Help" was partly filmed in Greenwood and the Greenwood CVB offers a free map pointing out the locations of 16 homes, churches, shops, and other sites in the movie, including the house that served as Skeeter Phelan's home.
"The Viking Cooking School's most popular class features southern specialties from 'The Help,'" Danielle says.  "As Minny Jackson's character said, 'Frying chicken always makes me feel a little better about life.'  So it's a great skill to have."
Greenwood also is linked to famous blues pioneer Robert Johnson who legend says sold his soul to the devil at a crossroads for his extraordinary talents. Johnson died in a shotgun shack just outside town and is buried in Little Zion Missionary Baptist Church Cemetery about two miles north of Greenwood.
"People come from all over the world to see it and you never know who you may run into while you are there," Danielle says.
The story goes that Johnson was having an affair with the wife of the owner of the Greenwood juke joint where he was playing. Unknowingly accepting a poison-laced drink that was sent to him, Johnson became deathly ill and died Aug. 16, 1938. He was 27 years old.
"There is truly a little something for everyone as Greenwood is steeped in diverse history and culture," Danielle says. "Greenwood has a laid-back atmosphere with plenty of opportunities for unwinding without the big city pressures."
Photos by Jackie Sheckler Finch  
Viking Cooking School chef instructor Loren Leflore demonstrates how to make coconut cream pie.
Pecan crusted catfish is a popular recipe at Viking Cooking School. (cover photo)
Blues legend Robert Johnson is reportedly buried at Little Zion Missionary Baptist Church Cemetery.
The grave of Robert Johnson two miles north of Greenwood.
Greenwood was once considered 'The Cotton Capital of the World.'
One of the crossroads reported to be where Robert Johnson sold his soul to the devil for his musical talents.
---
Ed. Note: Please contact us for more information and to book a cruise! Crown Cruise Vacations | Cruise Getaways You Can Afford!