Holland America shares California BLT recipe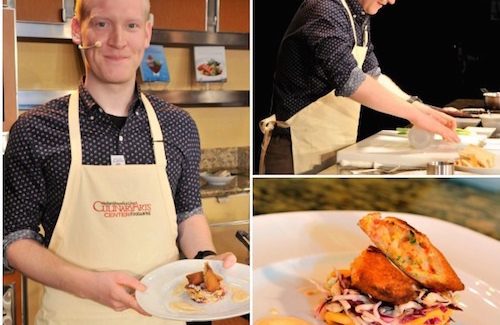 By Jackie Sheckler Finch
I've made bacon, lettuce and tomato sandwiches ever since I was a preschooler. But mine were pretty basic – bacon, lettuce, tomato (from my Dad's garden), white bread and Miracle Whip.
Delicious with a cold glass of milk.
But Justin Chapple, the senior test kitchen editor at Food & Wine Magazine, shared a different recipe on a Holland America cruise aboard ms Zuiderdam. The ship features cuisine presentations for guests in its Culinary Arts Center.
Justin's recipe is for a California BLT. Definitely worth trying and a step up from one of my childhood favorites.
Here is the recipe if you'd like to make it:
                                                         CALIFORNIA BLT
Ingredients:
24 thin bacon slices
1/2 cup mayonnaise
1 Tbsp. finely chopped tarragon
1 Tbsp. fresh lemon juice
Kosher salt and pepper
8 slices multigrain sandwich bread, lightly toasted
1 Hass avocado
2 Persian cucumbers
1 medium tomato, thinly sliced
4 small bibb lettuce leaves
1/2 cup mixed sprouts, like radish, sunflower and alfalfa
Directions:
1. Preheat oven to 400°. Line large rimmed baking sheet with parchment paper or foil. Weave 6 strips of bacon into a lattice on the baking sheet, leaving enough space for 3 more lattices. Repeat with the remaining bacon strips.
Set a rack upside down on the bacon. Bake for 15 to 20 minutes, until browned and crisp. Remove the rack, then transfer the bacon lattices to paper towels to drain.
Meanwhile, in a small bowl, whisk the mayonnaise with the tarragon and lemon juice. Season the tarragon mayonnaise with salt and pepper.
Spread the tarragon mayonnaise on each slice of bread. Arrange the sliced avocado, cucumbers and tomato on 4 slices of the bread and sprinkle with salt and pepper. Top with the bacon lattices, bibb leaves and sprouts. Close the sandwiches and serve. Serves four.
Photo courtesy of Holland America Line