Holland America partners with Seattle Mariners for exciting programs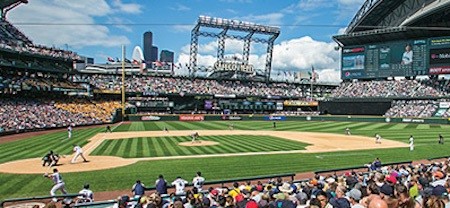 Fans cheer when a Seattle Mariners pitcher throws a strikeout during a home game. But now folks will have even more reasons to rejoice. For the third season in a row, the Seattle Mariners and Seattle's hometown cruise line of Holland America will join forces to help the Seattle Children's Hospital.
For every Seattle Mariners strikeout at home, Holland America will make a cash donation to the Seattle Children's Hospital. In 2015, Holland America rewarded the home strikeouts by presenting a check to the hospital for $25,000 on Fan Appreciation Night.
"Holland America Line is proud of our ongoing partnership with the Seattle Mariners, and this season we've increased our support of their community outreach programs," said Orlando Ashford, president of Holland America Line.
"Our two organizations share a like-minded commitment to giving back in the region, and together we can continue to make a difference in our community."
The cruise line also will continue to sponsor Get Well Tours with visits to area hospitals by Mariners players. Under the Seattle Mariners Get Well Tours, Mariners players along with the Mariner Moose mascot will visit area hospitals. During the visits, children and veterans will receive photos and autographs, plus a Holland American Line branded sports bag filled with Mariners items and baseball-related items such as replica baseballs and a stuffed moose.
The cruise line also is adding a new component – the "Salute to Those Who Serve" recognition event. At 26 Mariners home games this season, the "Salute to Those Who Serve" program will honor some of the men and women from various branches of the United States Military. During Friday and Sunday games, a member of the military (active, reserve, veteran or retired) is recognized on-field for his or her service to our country. Each honoree will receive four tickets and one parking pass to the game. Holland America Line is the presenting sponsor of this program.
In addition, Holland America Line is also the presenting sponsor of the annual Fan Appreciation Night at Safeco Field. Traditionally the final Friday home game of each season, Fan Appreciation Night celebrates the community support by local Mariners fans with prize drawings throughout the same. As part of its sponsorship, Holland America Line provides cruise giveaways at the special event.
"Holland America Line has been a tremendous supporter over the past six years," said Bob Aylward, executive vice president of corporate business for the Seattle Mariners. "We are proud to continue our relationship and expand our community outreach partnership to serve the community we all call home."