Former child actress recalls 'It's a Wonderful Life'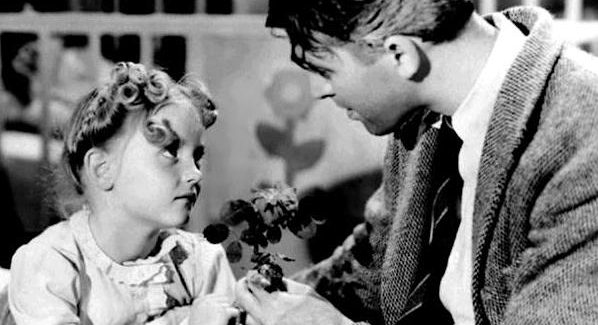 By Jackie Sheckler Finch
When Karolyn Grimes answers the phone at her Northern California home, her voice still has that musical sweetness that endeared her to millions of moviegoers.
And, of course, she can still recite her famous line, "Teacher says, 'Every time a bell rings, an angel gets its wings.'"
That's right, Karolyn Grimes is the little girl in the 1946 film, "It's a Wonderful Life."
She was six years old when she played Jimmy Stewart and Donna Reed's daughter and proclaimed her memorable words as Clarence the angel got his wings.
But it wasn't until she was 40 years old that Grimes finally saw the movie. "I was busy raising my children," she says with a laugh. "I didn't have time to watch movies."
Turning back the hands of time, Grimes recalls how it all started and the long path she has traveled – both good and bad – since those childhood actress days.
"It hasn't always been easy but it has made me who I am today, brought me to where I am today," she says. "I truly believe this is the path I was meant to follow."
Mother determined child would be a star
Born July 4, 1940, in Hollywood, Grimes was the daughter of a Safeway grocery store manager and a mother who was determined that her child was going to be a star.
"I was an only child and I think my mother was kind of living through me. She wanted me to be special."
By the time she was four, Grimes was cast in her first movie, "That Night with You," with two speaking lines.
"I couldn't read so my mother would go over the lines with me the night before and right before we went to the filming," Grimes says.
In total, Grimes appeared in 16 movies between 1945 and 1952. But it was "It's a Wonderful Life" for which she is most remembered.
"It wasn't a popular movie at all when it came out in 1946," she reminds. "The movie was too dark. That was after World War II and people wanted to be entertained. They didn't want a movie about some man thinking of committing suicide."
Hollywood career cut short
Two tragic events happened to the young Grimes that changed the course of her life and derailed her movie career. Her mother died of early-onset Alzheimer's disease when Grimes was 14. Her father died in an automobile accident when Grimes was 15. Her movie career ended with those immense losses.
"I do believe that I would have had a smashing acting career if my mother hadn't died," Grimes says. "She was the force behind me, the parent pushing me out the door."
A court ruling sent Grimes to live in Osceola, Missouri, with her aunt and uncle in what Grimes describes as a "bad home… My aunt was cruel, a wicked person. It was a really traumatic situation."
Although she doesn't dwell on it, Grimes does mention that life was not always kind. She married young, had two children, became a medical technician, got divorced and her ex-husband was killed in a hunting accident.
Years later, she married a man with three children and together they had two more. Her youngest son committed suicide at age 18. Her husband died of cancer. Life might not have seemed so wonderful.
Jimmy Stewart comes calling
Then a strange thing happened. In the 1980s, Jimmy Stewart tracked her down.
"People had been asking him whatever happened to that little girl in the movie and he found me," Grimes says, adding that the two made several public appearances together.
"The movie had sat on a shelf for 25 years and suddenly in the early 1970s, it seemed to be on every TV channel. It developed into this wonderful magical piece of film history that people love."
In fact, Grimes is kept busy making appearances and granting interviews, especially around the Christmas season when the movie is always shown on TV stations.
Grimes also has written a cookbook and a children's book titled "Zuzu's Petals" patterned after a scene in the movie where Zuzu is upset because a rose that she brought home from school has started to lose its petals. Her father pretends to fix it but actually slips the petals into his pocket.
For 16 years, Grimes has returned to Seneca Falls, New York, on the second weekend of December for the It's a Wonderful Life Festival. In 2010, Seneca Falls opened an It's a Wonderful Life Museum.
Now 80 years old, Grimes says she never tires of talking about the film. One of her favorite memories was during the end of the movie when Jimmy Stewart is holding her and the entire cast is singing "Auld Lang Syne."
"I didn't know the words to that song but I kept moving my mouth and saying words that weren't right," she says. "The camera was taking a tight shot of me singing with Jimmy Stewart and Donna Reed."
If you look closely, Grimes says, you can see Jimmy Stewart trying not to laugh as he sees the little girl's mouth moving with the wrong words coming out.
"That's the way he always was," she says. "Jimmy Stewart was kind and friendly. He was just the greatest man and I am so glad that people still love to see him in this movie."
Karolyn Grimes appeared in 16 movies between 1945 and 1952 including:
"Blue Skies" with Bing Crosby and Fred Astaire
"Mother Wore Tights" with Betty Grable
"Unconquered" with Gary Cooper
"The Bishop's Wife" with Cary Grant
"Albuquerque" with Randolph Scott
"Lust for Gold" with Glenn Ford
"Rio Grande" with John Wayne
"Hans Christian Andersen" with Danny Kaye
For more information: Call It's a Wonderful Life Museum (315) 568-5838 or click on
Photo courtesy of Karolyn Grimes: Zuzu gives her father, George Bailey, her wilting rose petals to revive.