Dolly Parton's Loving Legacy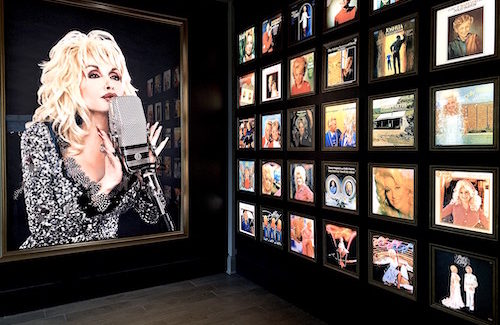 By Jackie Sheckler Finch
Growing up in the Great Smoky Mountains, Dolly Parton read a book that helped change her life. Although her father couldn't read or write, he encouraged his children to embrace education and was proud to see his daughter enjoy "book learning."
"I am 'The Little Engine That Could,'" Dolly says. "That is my favorite book, next to the Bible."
Dolly was inducted into the Country Music Hall of Fame in Nashville in 1999. A popular stop on riverboat cruises, the Country Music Hall of Fame shares Dolly's story, including the fact that she has composed more than 3,000 songs. But one of her proudest accomplishments is helping youngsters enjoy reading.
The classic story of "The Little Engine That Could" tells the tale of a determined little engine that, despite its size, triumphantly pulls a train full of toys to the waiting children on the other side of the mountain.
"It was always my dream to be an entertainer, to travel around the world, from the first time I sang into a can on a tobacco stick on the front porch" Dolly says. "I thank God every day."
Although the odds may have been against her, Dolly succeeded in her dreams to become one of the world's best-known and most-beloved entertainers. She also created a program, Dolly Parton's Imagination Library in 1996, to help other children dream and succeed.
"I never in a million years thought we would help give away more than 120 million books. The kids call me the Book Lady," Dolly says.
Currently 1.4 million children receive a book each month. Through the program, children enrolled the first month after birth receive a free, brand-new, age-appropriate book once a month in the mail.
The first book is "The Little Engine That Could." The last book when a child turns 5 is "Look Out Kindergarten Here I Come."
"At the end of the program, each child has a 60-volume library," says David Dotson, CEO of the not-for-profit Dollywood Foundation. "There are currently 1,700 communities in five countries participating in the program. There is at least one participating community in all 50 states."
Dolly says it is important to help children develop a love for reading while they are young. "That's when they are most impressionable," she says. "I know how, if you can read, you can self-educate yourself."
Poor in Money, Rich in Love
The fourth of 12 children of Robert Lee and Avie Lee (Owens) Parton, Dolly was born and raised in a ramshackle cabin in Sevier County, Tenn. The local country doctor, Dr. Robert F. Thomas, who delivered Dolly on Jan. 19, 1946, was paid a sack of cornmeal for his work.
The family struggled to make a living, but life was good, Dolly says. "You know, we had it kind of hard, but not any more than most folks. I had an incredible family, and we had so much love, we didn't know we were poor."
Music was an important part of Parton family life. When Dolly was 7, her Uncle Bill Parton gave her a guitar. Three years later, she got a big radio job.
"My first break came from a gentleman named Cas Walker in Knoxville," Dolly says. "He had a chain of grocery stores, but he also had a radio show on every day. He hired me."
The day after she graduated from high school in 1964, the 18-year-old packed her cardboard suitcase and moved to Nashville to seek her fortune—and found her husband.
"I met Carl my first day in Nashville at the Wishy Washy Laundromat," she says. Owner of an asphalt paving business in Nashville, Carl Dean has always shunned publicity.
Dolly's initial success came as a songwriter, writing hit songs for Skeeter Davis and Hank Williams Jr. About this time, Porter Wagoner was looking for a new "girl singer" for his syndicated television show. Dolly accepted the job in 1967, signed with RCA Records in 1968, and joined the Grand Ole Opry in 1969. Her career was in high gear.
After several hit duos with Porter, Dolly left the show in 1974, writing the song "I Will Always Love You" for Porter. It reached No. 1 for the first time in 1974.
Helping her Smoky Mountain hometown
Despite all the awards and international acclaim, Dolly has never forgotten her roots. In the early 1980s, she began musing about projects to help her Tennessee hometown.
"I was thinking I wanted to give something back to the area where I was born," Dolly says.
The result was Dollywood Family Amusement Park in 1986 in Pigeon Forge. The name had stuck in Dolly's mind from her first visit to Los Angeles. She had looked up at the landmark Hollywood sign and thought, "I would like to change that H into a D.''
But she hastens to add that the theme park is "much more about the mountains and the people who live there than it is about me. I saw Dollywood as a chance to honor them… It brought a lot of jobs to the area for my kinfolk and others to work."
In 1987 came Dolly Parton's Stampede dinner theater with an emphasis on down-home cooking and a modern-day Wild West revue. In 2001, the 35-acre Splash Country water park was added to Dollywood. Dollywood's Smoky Mountain Cabins launched in 2010. In 2011, the $9 million Pirates Voyage Dinner & Show opened. The 300-room DreamMore Resort & Spa next door to Dollywood followed in 2015.
At her DreamMore Resort, Dolly has left a final gift for her fans. Inside a locked chestnut "Dream Box" is a song Dolly has written about her memories and wishes for the future. The box is not to be opened until Dolly's 100th birthday on Jan. 19, 2046.
Entitled "My Place in History," Dolly says the song is to be released as her last. Until 2046, only Dolly knows its melody and message.
Photo by Jackie Sheckler Finch: A display at Dolly Parton's DreamMore Resort showcases her many music albums.