Cruise Trivia: Significance of pearl sculpture in La Paz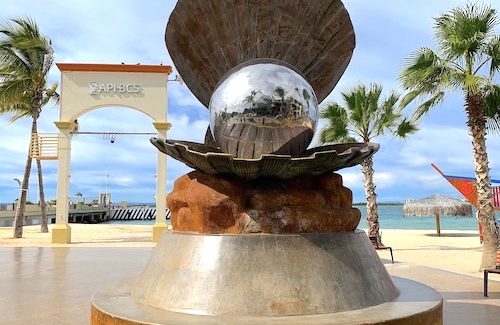 Thanks to my high school English teacher Miss Frances Cappel, I knew the significance of the pearl sculpture on the beautiful malecon in La Paz, Mexico.
I also knew a bit of the history of this Baja California Sur capital whose name means "The Peace."
My daughter said this is a toughie quiz because not everyone has the same mandatory reading list that I had in high school. See what you think.
I visited La Paz on a cruise and hope to return someday. Such a beautiful place with a lovely literary connection.
A hint: A scorpion plays a very brief moment in the book but is a very important part of the plot.
Don't look at the answer below until you have formulated your response. If you are right, good for you. Maybe you had a "Miss Cappel" sometime in your past. Or maybe you are just an avid reader.
If you didn't know the answer, book a cruise to La Paz and read the book before you go. Powerful lesson contained within.
*
*
*
(Answer)
My high school years are some decades in the past but I still remember Miss Cappel talking about how Pulitzer Prize winner writer John Steinbeck had visited La Paz and heard a Mexican folk tale about human greed. That prompted him to write "The Pearl," published in 1947.
Our La Paz guide Emmanuel welcomed us to "the place where desert meets ocean." It certainly does. From the white sands on the beach, we could see the clear blue-green water of the Sea of Cortez in front of us and the tall prickly arms of cactus behind us.
"Spanish explorer Hernan Cortes (or Cortez) discovered the area that is now La Paz in 1535," Emmanuel said, adding that the Sea of Cortez was named in the explorer's honor.
La Paz was once rich in pearls, Emmanuel added. When Cortes returned to Spain in the 1530s, he told tales of indigenous tribes wearing pearls as though they were abundant trinkets from the sea.
Unfortunately or fortunately, the native folks did not welcome intruders and were quick to attack these foreigners. It wasn't until years later that Spanish colonists were able to make peace with the locals, naming the area Bahia de La Paz or Bay of Peace. However, it wasn't until 1811 that a permanent settlement was successfully established.
Although pearl diving was restricted during the Jesuit mission period, the 19th century brought a rush to cultivate pearls. As a result, the once abundant oyster beds became heavily depleted. In the 1930s, a disease attacked the few remaining oyster beds. By the time Steinbeck arrived in 1940 in La Paz, the once glorious pearls were a thing of the past.
But La Paz is rich in history, culture and beauty. Life and death have always been closely intertwined, Emmanuel said, and both are to be celebrated. "When a baby is born, one thing is sure," he said. "That baby will die. No matter how long we may live, we all will die. It is part of life and it is never goodbye."
That helps explain the Dia de Muertos (Day of the Dead) Mexican holiday celebrated throughout Mexico when family and friends gather to celebrate and remember those who have died. "It is not a day of sadness but a day of celebration because our loved ones are still with us," Emmanuel said.
Strolling along the seaside malecon – a paved pathway that runs along the edge of the sea for three miles – Emmanuel said it is considered one of the most beautiful boardwalks in Mexico.
The malecon (Spanish for pier) had more than $10 million invested in remodeling this important centerpiece in 2017. Along the malecon, sculptures of mermaids, mantas, hammerhead sharks and the gigantic mirrored pearl remind us that the sea is the heart and soul of this place. I can see why Steinbeck was inspired to write his masterpiece.