Andy Griffith's Hometown Abounds with Touches of Mayberry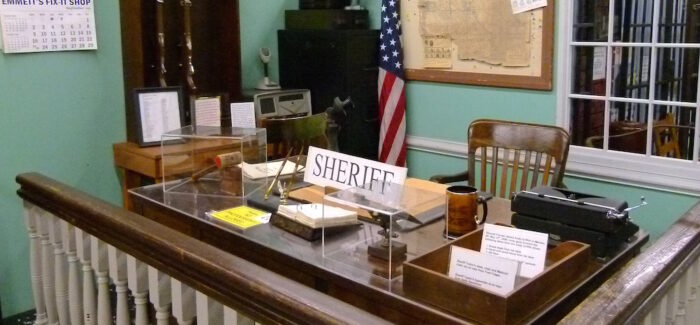 The familiar whistled theme song floats through the air. A well-worn wooden chair where Sheriff Taylor sat waits by his desk. His typewriter, vintage phone, jail cell keys are neatly arranged nearby. And a continuous loop of "The Andy Griffith Show" plays on an old TV.
Although "The Andy Griffith Show" ended in 1968 after eight years as a fan favorite, this place makes it seem as though you've somehow stepped through a time tunnel back to Mayberry and all its quirky lovable characters.
"So many people grew up with 'The Andy Griffith Show' and when they come here, they say it feels like coming home," says Tanya Jones, leading a tour of the Andy Griffith Museum in Mount Airy, North Carolina.
"Andy used street names and people's names from here in his show. If you walk around town, you'll see many familiar names."
Born June 1, 1926, in Mount Airy, Andy Samuel Griffith and his parents lived with friends until they could afford to get their own place. "His family was very very poor," Tanya says. Without a crib, baby Andy slept in a dresser drawer.
An only child, Andy Griffith discovered the heart-warming sound of acceptance and applause when he was in the third grade. Andy and one of his friends were supposed to sing in a local school program. When the curtain opened, however, the friend backed out and Andy had to appear on stage by himself.
Alone in the spotlight, Andy sang "Put on Your Old Gray Bonnet" and brought down the house. The little boy never forgot that loving feeling.
Andy also met the grade school buddy, Emmett Forest, who would become his lifelong best friend. "Most of the artifacts and collectibles in the museum here were given by Andy to Emmett," Tanya says. A September 1963 wall calendar on the museum set of "The Andy Griffith Show" promotes Mayberry character Emmett Clark's fix-it shop, a TV nod to Andy's old pal.
Finding His Path as an Entertainer
After high school, Andy enrolled to become a Moravian minister at the University of North Carolina at Chapel Hill in 1944. But while in college, Griffith rekindled his love for theater and music, graduating in 1949 with a degree in music.
Teaching high school music for three years, Andy and his bride Barbara Edwards decided to go on the road with a singing, dancing, monologue show. One of Griffith's monologues – "What It Was Was Football" –  was released commercially in 1953 and became one of the most popular comedic monologues of all time.
From then on, it was theater, movies and television, including the popular "Andy Griffith Show," and later the legal drama "Matlock" from 1986 to 1995. Andy died of a heart attack on July 3, 2012, at his coastal home in Roanoke Island, North Carolina, where he is buried.
For Henry Atkinson of Atlanta, coming to Mount Airy is a dream come true. "I used to watch Andy Griffith's show as a boy and really thought there was a town named Mayberry," Henry says, sauntering through downtown Mount Airy. "I imagine this place is about as close as you can come. I almost expect to see Andy and Barney Fife walking down the street here."
Devoted fans can stay at Andy's boyhood home at 711 E. Haymore St. The small two-bedroom, one-bath bungalow is where Andy lived until he graduated from high school. Now owned by the nearby Hampton Inn, the house has board games and tapes of "The Andy Griffith Show" for nostalgic entertainment.
Then there's the museum with its big bronze statue of Andy and Opie heading for the old fishing hole. Inside the museum is a wealth of items from all stages of Andy's life as well as mementos from fellow actors.
A rocking chair built in 1927 by his father was where young Andy was soothed to sleep. School photos show Andy with a head of wavy hair and outsized ears. A glass display case contains Sheriff Taylor's uniform shirt and another case has Ben Matlock's white suit.
Also on display is the salt and pepper wool suit Barney wore when dressed to impress. The slingshot Opie used to accidentally kill a bird is there as is an exhibit on Betty Lynn, the actress who portrayed Barney Fife's one true love Thelma Lou.
Although downtown Mount Airy has such Mayberry-themed shops as Opie's Candy Store, Barney's Café and Floyd's Barber Shop, the only real Mount Airy business referenced in the show and enjoyed by Andy as a youngster is the Snappy Lunch.
Opened in 1920s, the popular lunch spot is famous for its pork chop sandwich –  a massive fried boneless pork chop with coleslaw, chili, mustard, onion, tomato, lettuce and mayo for a modest $4.20.
The Visitors Center offers information, helpful folks and free restrooms with the sign "Two Seats. No waiting." Remember that episode about Floyd's Barber Shop on the TV show?
"If it weren't for Andy Griffith, Mount Airy would probably be a ghost town," says Esther Johnson at the Visitor Center. "People come here because of Andy and we're glad they do."
For more information: Contact the Andy Griffith Museum at (336) 786-1604, www.surryarts.org/agmuseum
Andy's desk as Mayberry sheriff is displayed at the Andy Griffith Museum.
Andy Griffith's senior class photo.
A bronze statue of Andy and Opie going fishing is outside the Andy Griffith Museum.
The home where Andy Griffith grew up can now be rented for overnight stays.
Visitors can take Mayberry Squad Car Tours in Mount Airy.