Shore Excursion: Ruins of ancient Ephesus in Turkey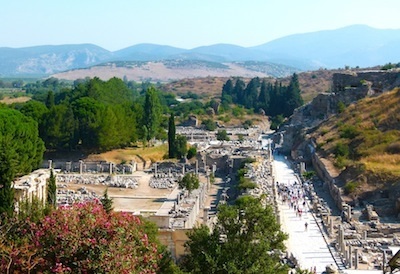 Carved into stone, the drawing of a footprint may be the first public billboard advertisement ever recorded in history.
"It pointed the way to the local brothel," guide Bulent Yurttas said, leading us around the ancient city of Ephesus. The dots on the stone represent the number of prostitutes in the brothel and the heart carving means the women are eager for love.
Never know what you are going to learn on a shore excursion from a cruise ship.
When my Celestyal Crystal docked in Kusadasi, Turkey, I was looking forward to seeing the ruins of the historic Ephesus. I had learned about the city as a kid in church. But my Sunday school teacher never mentioned anything about the footprint or brothel. Mostly we studied about the apostle Paul and his preachings in Ephesus.
"Walking through Ephesus is like walking through history," Yurttas said. "So much happened here."
The streets of Ephesus were once trod by such important historical figures as Androcles of Athens, Alexander the Great, Hannibal, Julius Caesar and Cleopatra who is said to have brought her beloved cats to the city.
St. Paul reportedly lived in Ephesus for three years after the death of Christ and St. John wrote his gospel here. Some believe that Ephesus is the place where Mary, the mother of Jesus, spent the end of her days on earth after his crucifixion.
Ephesus was built by Greek colonists. The city flourished when it came under the control of the Romans in 129 BC. The city's famed Temple of Artemis was considered one of the Seven Wonders of the Ancient World.
Although only an estimated 15 percent of the old city has been excavated, it is obvious that Ephesus was a very large and rich place. It is said to be the largest collection of Roman ruins in the eastern Mediterranean. At its peak during the 1st and 2nd century AD, Ephesus was a center of commerce and education, second only to Rome. An estimated 250,000 inhabitants lived here at the city's peak of importance.
Before we left, our guide Yurttas pointed out a sculpture that shows how advanced the Ephesians were and how items from the past that are patiently unearthed can answer questions – and also create even more questions. The remnants of a statue honoring Emperor Trajan who ruled the Roman Empire in the 2nd century show a large ball with a foot on top of it.
"The statue meant that he ruled the world.  His right foot is on the globe," Yurt's said. "That meant that they knew the world was round long before later men said it was."