The 'Pole Flying Dance' in Cozumel, Mexico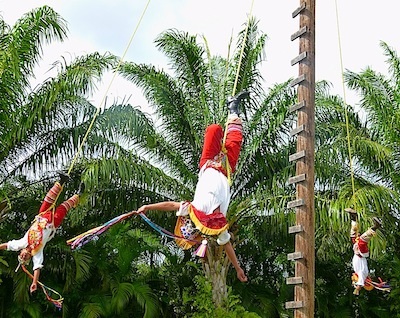 COZUMEL, Mexico – The five costumed men danced around the tall wooden pole. After tying ropes around their waists, the dancers climbed to the top of the pole. Once seated on platforms at the top, the dancers looked at each other, gave some kind of signal and then four of them flung themselves backwards.
The cruise ship crowd gathered below gave an audible gasp. The dancers dangled upside down going round and round the pole until they finally reached the ground.
The fifth dancer stayed atop the pole on a platform playing flute and drum as the dancers descended to loud applause.
"I saw it on TV but it is much more exciting to see in person," said Marilyn Anderson of Florida. "No way would I do that."
The Mexican Pole Dancers is a popular performance when cruise ships dock in Cozumel. Many of the tours offered as shore excursions include a chance to see the dance and tip the daring dancers.
The Danza de los Voladores (Dance of the Flyers) or Palo Volador (Pole Flying) is an ancient ritual still performed in a modified form in various parts of Mexico.
According to one tale, the dance was originally created to ask the gods to end a severe drought. Supposedly, the dance was done, rain did fall, the drought ended and crops grew again.
The ceremony has been named an Intangible Cultural Heritage by UNESCO to help the ritual survive in the modern world.
Story and photo by Jackie Sheckler Finch