January 28, 2013 | Heidi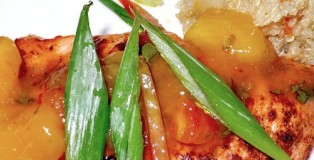 With all the activity on the Wilderness Explorer and the healthy dining options, I am hoping to lose weight on my eight-day cruise. It isn't happening. Don't know how chef Bob Ward and his culinary team prepare all that yummy food in such a small kitchen but they certainly do.
Breakfast and lunch are served buffet style so cruisers on InnerSea Discoveries can get to their activities or can catch the action alongside the ship. Dinner is served sit-down style but even that can change if wildlife has been spotted.
"When it comes to a choice between dinner and whales," chef Bob notes with a grin, "the whales always win."