Princess Cruises debuts new livery design on Majestic Princess - Crown Cruise Vacations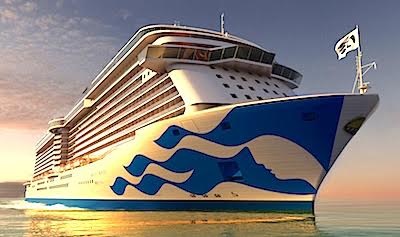 One of the most recognized brand logos in cruise ships is rolling out an elegant new livery design. The Majestic Princess will be the first ship in the Princess fleet to debut the striking change with the new look rolling out fleetwide over the next few years.
"For nearly half a century our Princess logo has represented the adventure of cruise travel around the globe," said Jan Swartz, Princess Cruises president.
"Now our ships sail to more than 360 ports of call worldwide and will be instantly recognized from afar. As the very first cruise ship built for China, we take great pride that Majestic Princess is our first ship to proudly display our new livery design."
The new design symbolizes the smooth and flowing gracefulness of ocean waves and captures the excitement and adventure of a Princess cruise vacation.
As the first cruise ship built and designed specifically for the China market, the Majestic Princess also has a godmother or "madrina." The mother of the ship's captain Dino Sagani, Graziella Sagani has been  named the ship's madrina.
With a homeport in Shanghai, the Majestic Princess will carry 3,560 guests. Popular features on the new ship include a dramatic multi-story atrium serving as the social hub of the ship; an over-the-ocean SeaWalk, a top-deck glass-bottomed walkway extending 28 feet beyond the edge of the ship; the Princess Live! interactive studio; and a special Chef's Table Lumiere, a private dining experience that surrounds diners in a curtain of light.
The Majestic Princess also will feature a number of new venues and experiences created for the China market. Princess will be revealing details of those features in the coming months.
By Marie Poynter