Princess Cruises and "The Love Boat" cast honored on Hollywood Walk of Fame - Crown Cruise Vacations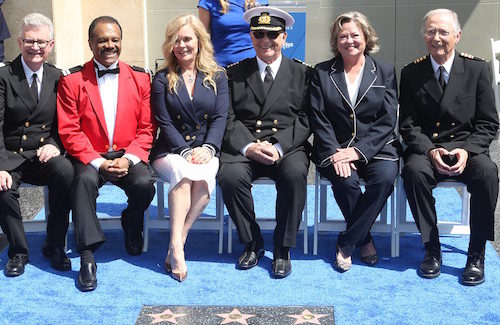 By Jackie Sheckler Finch
Back in May of 1977, a new TV show premiered that was set aboard a cruise ship. Called "The Love Boat," the series featured stories of romance, hijinks and adventure on the high seas.
It also made viewers think this cruising travel looks like a great deal of fun. Why not enjoy it themselves, viewers thought? Before long, Princess Cruise became a household name as the setting and, some say, the star of the show.
"The 'Love Boat' opened the hearts and minds of millions of television viewers to the adventures of cruise travel by way of the exotic destination our ships visited on the show," said Jan Swartz, Princess Cruises president. "Today, our guests continue to create lasting memories and explore the world on our modern, fleet of 17 premium cruise ships."
Now those long-ago actors have been honored with an honorary star plaque on the Hollywood Walk of Fame. Princess Cruises and the original cast of "The Love Boat" received recognition for their contribution to the history of television and support of the preservation for the Walk of Fame.
Princess Cruises becomes only the third brand to be recognized as a Friend of the Walk of Fame, joining L'Oréal PARIS and ABSOLUT Vodka.
Present for the presentation were Gavin MacLeod (Captain Stubing), Jill Whelan (Vicki), Ted Lange (Isaac), Bernie Kopell (Doc), Lauren Tewes (Julie) and Fred Grandy (Gopher) joined by Leron Gubler, CEO of the Hollywood Chamber of Commerce, Donelle Dadigan, co-chair of the Hollywood Historic Trust, the superintendent of the world-famous walk,  and Jan Swartz.
The honorary star plaque is located on Hollywood Boulevard in front of the main entrance to the Dolby Theater.
After the pilot show, "The Love Boat" show went on to enjoy phenomenal success, continuing for 10 seasons until 1987 as one of the highest-rated, prime-time television shows in the country.
Pacific Princess and Island Princess were the two original ships but as the show grew in popularity "The Love Boat" was filmed aboard many Princess ships at exotic destinations around the globe.
Photo courtesy of Princess Cruise Lines