Meeting my River Butler on the American Duchess - Crown Cruise Vacations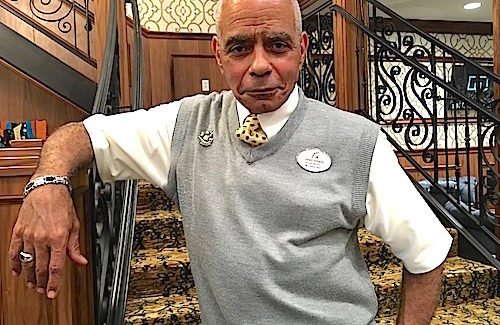 By Jackie Sheckler Finch
His name is W. Gerard Williams. He is my River Butler and he seems to be everywhere.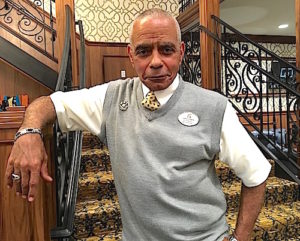 When I checked into my Loft Suite aboard the American Duchess, Gerard was there to show me the cabin's light switches, in-room safe, mini-fridge stocked with complimentary water and sodas, Keurig coffee maker with eight one-cup coffee pods, TV controls, two telephones (one upstairs and one downstairs), balcony door lock, thermostat and other grand features of my amazing stateroom.
On the dining room table with its lovely live orchid, he pointed out a copy of the River Times, the daily newsletter with all the activities, meals, shore excursions, musical programs and other information for each day's cruise.
He indicated the many storage places and the ironing board and iron – very unusual for any boat or ship – and the hairdryers in the bathrooms, plus the fluffy bathrobes and slippers in the upstairs closet.
All that Gerard was showing me, I could have figured out on my own. But it was the floor-to-ceiling mechanical drapes that would have stumped me without his help.
Located by the downstairs large flat-screen TV (there is also a large flat-screen TV in the upstairs bedroom) were two remote controls.  One was obviously for the TV. But I had no idea what function the other one provided – until Gerald showed me.
The second remote control opens and closes the custom draperies and sheer curtains on the tall, wide windows. I could open the drapes or close them by pressing a button. I also could open the sheers or close them by touching another button.
I'm a window person so I know these window coverings will be open during my entire cruise. In fact, when my cabin attendant Francis closed the curtains while I was at dinner the first night – he also turned down my bed, left a River Times newsletter, created a cute towel puppy and placed two chocolates on my pillows – I used the remote to open the draperies again before I went to bed.
I want to see the mighty Mississippi when I go to sleep and when I wake in the morning. The constantly changing riverscape always fascinates me.
Passengers in the Loft Suites and Owner's Suites have what the American Queen Steamboat Company calls "Commodore Services" and the River Butler. Perks include pre-boarding, a bottle of wine and basket of fruit upon arrival, preferred seating in the Grand Dining Room, reserved seating in the Show Lounge and an invitation to dine with the boat's senior officers.
My River Butler will unpack and pack my clothes, do my laundry and pressing, deliver afternoon tea in my suite, serve breakfast and dinner on my balcony by request, bring pre-dinner canapes and post-dinner sweets and escort me to evening shows.
Gerard also is arranging for me to tour the captain's pilot house and the engine room. He is a gracious man who speaks in a soft low voice and seems to glide when he walks. A very smooth fella.
Photo by Jackie Sheckler Finch