Guy Fieri Shares Burger Recipe Served on Carnival Cruise Ships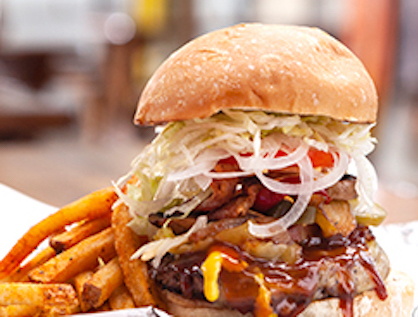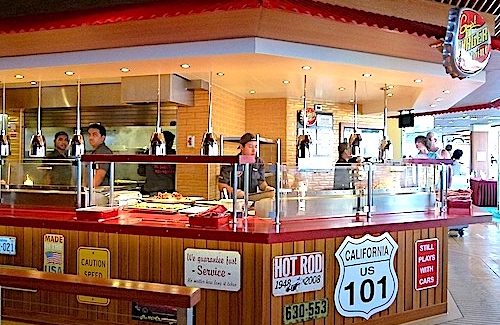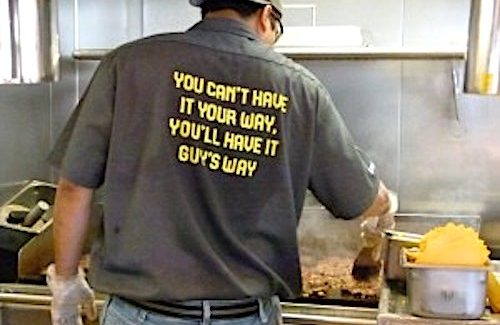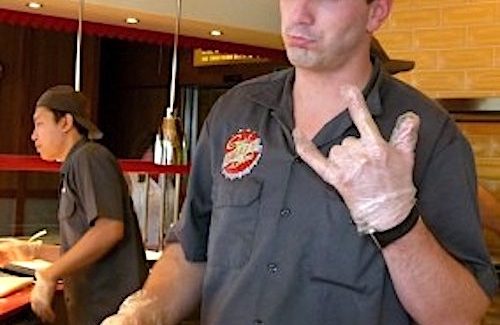 The tantalizing sizzle of hamburgers frying on a griddle sure caught my attention. I don't even like hamburgers but I had to try one of these tempting beef sandwiches.
After all, this is the famous Guy's Burger Joint on the Carnival Breeze. Created in partnership with Food Network's spiky-haired Guy Fieri, the poolside restaurant is hopping each day.
And now Guy is sharing that top-secret recipe for his special burgers. When you can't take a cruise, you can satisfy your craving for a Guy's Burger at home.
On my Carnival Breeze cruise, the 80/20 ground chuck burgers are cooked right before your eyes. To start, you choose the type of burger you want – the Plain Jane with or without super melty cheese; the Pig Patty with beef, bacon and cheese; the Ringer with cheese, Guy's bourbon and brown sugar BBQ sauce and a crispy onion ring; or the Chilius Maximus with cheese, onion ring and topped off with chili.
Burgers can come with or without with a slather of Donkey Sauce – Guy's "jacked-up secret mayo sauce" (which Guy also is sharing below). The fresh-cooked burger is then plopped on a tasty butter grilled roll.
Then it's time to take the burger to the ship's toppings station –sautéed mushrooms and onions, raw onions, tomatoes, pickles, bacon bits, crispy chips, lettuce and peppers. Next is the condiments – ketchup, mustard, chipotle mayo and other stuff.
Ship Servers Carry Out the Gas Station Motif
The décor of the ship's burger restaurant is definitely upscale gas station with license plates, road signs and what looks like oil dipstick wipe rags for napkins. Even the servers sport distinctive service station apparel – dark grey shirts with the "Guy's Burger Joint" logo embroidered and their names (Was that guy smiling at my camera really named "Greaser"?)
The back of a server's shirt reads "You can't have it your way. You'll have it Guy's way." Ball caps atop the servers' heads add to the casual ambiance.
Lido Deck 10 is definitely the perfect spot for this joint. I seldom went past it when folks weren't in line to get a burger and settle into a poolside lounge or head into the air-conditioned restaurant to sit by a window and watch the ocean roll.
Even as a non-burger person, I can see the attraction here. For a hamburger, it was good. That's a high compliment from someone like me who doesn't eat bumpy meat.
Guy Fieri's Ringer Burger
Hamburger ingredients:
5 ounces ground beef (80/20 blend)
½ ounce Velvetta cheese sauce
½ ounce thinly-sliced sweet onion
1½ ounces finely-shaved iceberg lettuce
1 slice of American cheddar cheese
1 thin slice beefsteak tomato
3 paper-thin slices of kosher dill pickle
2 tablespoons Donkey Sauce (recipe below)
1 large crispy onion ring
1 tablespoon Guy Fieri Bourbon Brown Sugar BBQ Sauce (available in stores)
kosher salt for seasoning
1 soft hamburger bun, split in half
2 tablespoons unsalted butter
¼ teaspoon garlic paste
Directions:
Heat a flat-top grill or cast iron pan over very high heat. Form the ground beef into a tight ball and season with salt. Place hamburger ball on grill to sear for 45 seconds, then flatten with a heavy spatula to about 1/3 inch thickness.
Cook for 90 seconds to develop a crust on the first side of the bottom. Flip over and cook on the second side for one minute to develop another crust. Add cheese sauce to the top of the hamburger and top the cheese sauce with a slice of cheese.
Combine the garlic and melted butter. Brush the inside of bun halves with the mixture and toast on the grill or pan for 3-4 seconds, until golden and crisp. Flip and toast for 3-4 seconds so the outsides are also lightly toasted.
Donkey Sauce ingredients:
1 cup mayonnaise
¼ cup roasted garlic
1 teaspoon yellow mustard
4 dashes Worcestershire sauce
¼ teaspoon kosher salt
4 pinches ground black pepper
Directions:
Combine all ingredients in bowl and mix well. That's it.
Assembling the hamburger:
Smear Donkey Sauce on the sliced side of both bun halves. Layer the base with pickle slices and burger patty. Top burger with crispy onion ring, BBQ sauce, sliced onions, tomato and lettuce. Place top half of bun on top. Enjoy!
Story and Photos by Jackie Sheckler Finch