Dr. Seuss WaterWorks Park to be featured on new Carnival Horizon cruise ship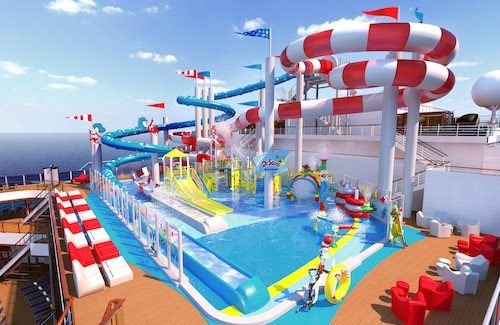 By Jackie Sheckler Finch
Imagine zooming down a massive Cat in the Hat water slide. Or slipping through an enclosed body slide with polka dots and special lighting honoring mischievous duo Thing 1 and Thing 2.
And doing all this on a cruise ship.
Legendary children's author Dr. Seuss is the inspiration for Dr. Seuss WaterWorks, a thrilling water park featured on Carnival Cruise Line's newest ship, the 133,500-ton Carnival Horizon. The 3,934-passenger vessel is set to debut on April 2, 2018.
"Our ships are designed as the ultimate seagoing playgrounds and Carnival Horizon will take this concept to the next level with the spectacular Dr. Seuss WaterWorks which promises fun for guests of all ages," Carnival president Christine Duffy said in a news release.
"Dr. Seuss is an iconic American brand and we're delighted to expand our partnership with this incredible top-deck water attraction for our guests," Duffy said.
Larger-than-life images of famous Dr. Seuss characters – including The Cat in the Hat holding an inner tube, The Grinch sporting a surf board tucked under his arm, and Thing 1 and Thing 2 frolicking atop their namesake slide – will greet visitors as they enter the park, with memorable Dr. Seuss phrases displayed on clear partitions that surround the facility.
Inspired by everyone's favorite feline, The Cat in the Hat slide will feature an enclosed raft slide offering more than 450 feet of twists and turns. Located on Deck 12, Carnival Horizon's Dr. Seuss WaterWorks will offer two distinctly different slides each promising their own splash fun.
The entrance resembles The Cat's famous red and white hat with the distinctive color pattern carried throughout the slide in alternating translucent and opaque sections. Dr. Seuss WaterWorks will also include a 150-gallon tipping bucket patterned after The Cat's hat, along with a kiddie splash zone with dozens of water spray toys.
Sure to be equally fun will be the Fun Things slide, an enclosed body slide with whimsical polka dots and special lighting effects and named after the mischievous duo Thing 1 and Thing 2 and encompassing 213 feet of exhilarating all-ages fun.
"We're excited to build upon our relationship with Carnival by introducing our first-ever water park," said Susan Brandt, president of Dr. Seuss Enterprises. "Dr. Seuss is all about family fun and togetherness and we can't wait to see our characters come to life in this colorful and exciting space."
Theodor "Seuss" Geisel wrote and illustrated 44 books for children and won the 1984 Pulitzer Prize. While Geisel died on Sept.  24, 1991, Dr. Seuss lives on, inspiring generations of children of all ages to explore the joys of reading.
Carnival Horizon will also feature the Dr. Seuss Bookville family reading and play venue and popular Seuss at Sea activities like The Green Eggs and Ham Breakfast with The Cat in the Hat and Friends and the Seuss-a-palooza Parade and Story Time.
Photo courtesy of Carnival Cruise Line