Dispatches: The Magic Kingdom - Crown Cruise Vacations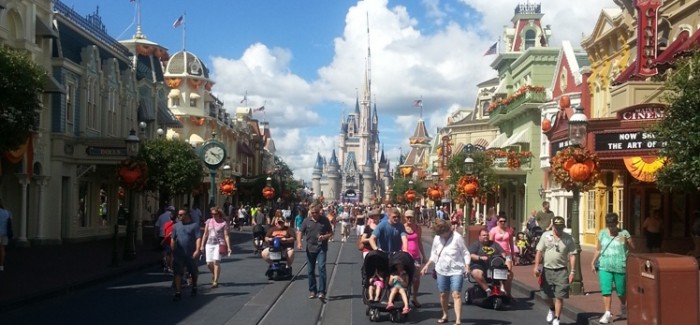 If I'd said it once, I must have said it a dozen times during my first short stay at Walt Disney World. This is a whole different culture than I was expecting. I've traveled a lot of different places, experienced a lot of different things – but the culture shock in the Magic Kingdom was intense! I don't think that I've ever been in a place before where everyone just seemed so happy before.
I guess its to be expected. After all, the Magic Kingdom is constantly referred to as "The Happiest Place on Earth," and in that regard it lives up to the hype. People are smiling everywhere. The Magic Kingdom has developed such a reputation both at home and abroad that the parks have spread around the world with outposts in Hong Kong, China and France. Altogether, the parks attract over 100 million people annually, the bulk of them passing through Walt Disney World. And the enormity of Walt Disney World is pretty awe-inspiring.
Take for example, Epcot's World Showcase. Some of their cast-members fly in from their home countries to represent Germany or Japan or Morocco and live in Florida, and at times do things as simple as work in the restaurant or shop… yet still see themselves and come across as a Cultural Ambassador, because they believe in what they are doing. It's something so simple, yet so important to make the resort such a success. People there believe in what they are doing and create special, magical experiences everywhere they go.
Disney Parks employees are referred to as cast-members because they are an active part in the story that Disney tries to tell with every experience. So are the guests who visit, in fact. Thanks to constant innovation, people who visit the Magic Kingdom, or Hollywood Studios or Epcot are instantly a part of the stories that captivated them enough to come out to Orlando in the first place. And as technology keeps pace, guests get more and more involved in the experience itself. And you can see it now, people who visit are as big of a part of the story as anything else now. Visit the Magic Kingdom, and you really are transported to Main Street, USA.
Of course there are still the traditional, stand by attractions – the Carousel of Progress, the Teacups and the Small World boats, but newer attractions are taking advantage of their interactive nature, and even waiting in line has become an event unto itself like in the Dumbo ride that you can find in the New Fantasyland.
I get it now. Walt Disney World is a culture shock, but a really good one.